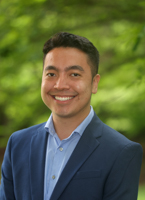 What Contractors Need to Know About the Affirmative Action Plan (AAP) Certification
Government | 5 Min Read
Think of the last deadline you missed in your current position or back in school. It happens to the best of us, but either way, we all want to make things right so you can keep your GSA Schedule compliant. One deadline in particular that we stress to not lose track of is your company's Affirmative Action Plan (AAP) certification. In the past, required contractors just needed to self-certify, but as of this year, you need to officially register and certify through the Office of Federal Contract Compliance Programs (OFCCP) Contractor Portal.
The deadline to certify was June 30, 2022 for all qualifying contractors, but there is still time to take immediate action before federal agencies take any disciplinary measures. In this blog, we'll cover who the AAP certification applies to, how to certify, and guidelines for the next deadline.
What is an Affirmative Action Plan (AAP)?
Before we get into the specific details of the Affirmative Action Plan (AAP), let's discuss the background of AAP. The AAP plan is simply a written document or program that outlines the steps an establishment is taking to ensure that equal employment opportunity measures are in place. The Department of Labor (DOL) wants to ensure that minority groups are protected and that nondiscrimination in federal contracting is in order. The DOL accomplishes this goal through company Affirmative Action Plans.
Be sure to check out the Contractor Portal which is the OFCCP platform where federal contractors and subcontractors can obtain a certification. This is also the portal where contractors can upload their Affirmative Action Plans during compliance evaluations. But does all this apply to you? We'll talk about the specific requirements below.
Who Does AAP Apply to?
First, take note that all supply and service contractors and subcontractors with 50 or more employees AND a federal contract of over $50,000 will need to have an AAP within 120 days of the start of the federal contract.
If you are solely a construction contractor/subcontractor this does not apply to you. However, if you have a federal or federally assisted construction contract of $10,000 or more, you are still required to take 16 Affirmative Action steps.
If the AAP applies to you, you might be wondering what if you have different locations with varying numbers of employees? Let's say you have 12 locations, 10 with 50 or more employees and 2 with less than 50. In this case, you will need 10 total AAPs for the 10 locations that have over 50 employees. If you fall into the criteria above and have not registered and completed certification in the OFFCP Contractor Portal, check out our steps below.
How to Register for the OFFCP Contractor Portal
To certify, you must be registered first. Completing those steps will take you to the OFCCP dashboard where you can begin your certification form submission.
Contractors who aren't certified could be investigated upon review by the Federal Contract Compliance Programs (OFCCP) to ensure that annual Affirmative Action Plans are in place. Not submitting an Affirmative Action Plan can lead to heavy financial penalties and debarment, so let's get started.
Step 1
Open your browser and follow the link to https://contractorportal.dol.gov and click "Create Account."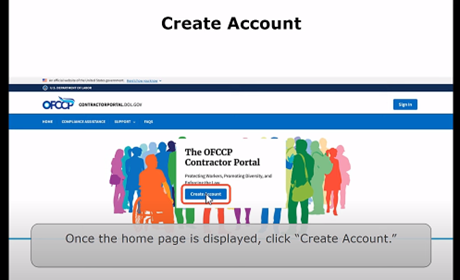 Step 2
You will then be taken to the page below. Select "Create an account." You will need an email address and password. Write them down somewhere!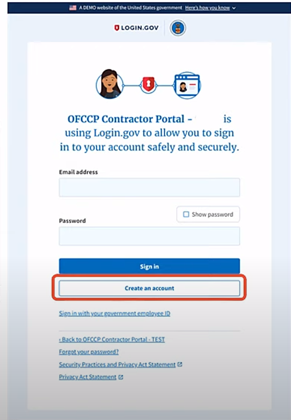 Step 3
The next few pages will have documents to check including knowledge of the Rules of Behavior as well as terms and conditions. Go ahead and select those boxes and click "continue." You will then be directed to the User Authorization screen where you'll need to enter your Employee Identification Number (EIN), Headquarter/Company Number, as well as the Establishment/Unit Number. The box to the right should remain unchecked.
If you're not quite sure where to find this information, be sure to check your company's Equal Employment Opportunity Commission EEO-1 Report. Click continue to proceed to the next page.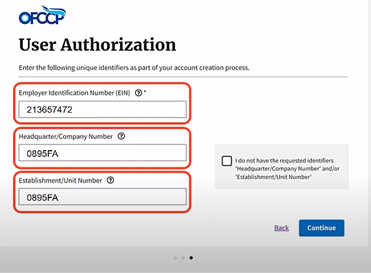 Step 4
You are now on the "Edit Parent Company" page. The information from the user authorization page should be pre-populated within each blank space. Review and confirm that all information is correct as you scroll down and select "save" at the bottom of the page.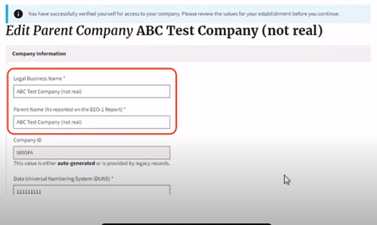 Step 5
You are now on the Dashboard screen where you can now begin to submit your AAP certification form.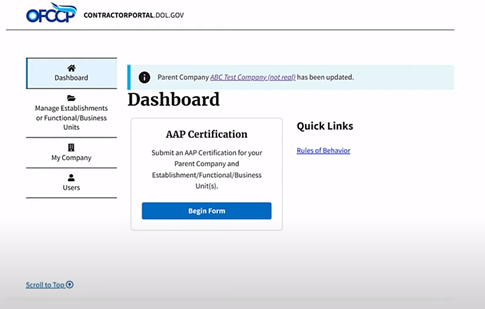 Next Steps for Contractors Submitting an AAP
Next steps depend on where you are in the certification process and if you are an existing or new federal contractor/subcontractor.
For companies that have registered but are not certified due to pending technical issues, be sure to work with the Help Desk to complete the process. Be sure to maintain all documentation of their correspondence with the Contractor Portal technical help desk.
If you are a new federal contractor/subcontractor with completed registration but no AAP yet, OFCCP allows 120 days to complete an AAP. Within 90 days from the AAP due date, be sure to go back to the Contractor Portal and update your certification.
If you are an existing contractor, recertification is required– meaning that you must maintain an AAP and update it annually. Instructions for updating your certification can be found in the Certification Section of the User Guide, which is located on the OFCCP Contractor Portal Landing page. Right now, there is no set date for next year, but it will most likely be due on the same date for everyone rather than 1 year from your registration or recertification date.
Are you Prepared for the Next AAP Deadline?
The biggest takeaway for existing contractors is to always be prepared especially when it comes to GSA Schedule maintenance. If you haven't certified yet and are required to submit an AAP, please find a way to prioritize this and develop those plans. Along with this, contractors must update their certification annually in order to stay compliant with the law. If you have any questions on where to go from here or if anything sounds confusing, be sure to reach out to our consultants and we would be happy to help in anyway we can.