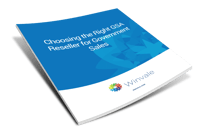 If you try to sell to the federal government you know how difficult the maze of requirements and questions is to navigate - perhaps partnering with a reseller is the fastest and most cost-effective way to sell to the government. Download our free whitepaper to learn every thing you need to know to choose the right partner to help you sell to the government.
Download our free whitepaper, Choosing the Right GSA Reseller for Government Sales, to learn:
The pros and cons of getting your own GSA Schedule compared to partnering with an existing GSA Schedule holder
How to tell if there is a demand from the government for your solutions
How to choose the right GSA Reseller for you
How to determine what you need your GSA Reseller to do for you
To gain access to your free copy, simply fill out the form on this page.