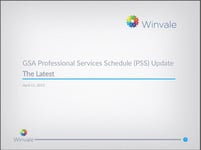 Changes to GSA Professional Services Schedules are nowhere near finished. This webinar discusses how these changes will impact your current GSA Schedule contract, and how it will impact future entrants.
Download this free webinar to learn about:
Recap on PSS Consolidation
Updated Timeframe for Rollout
Migration Package Details & Status Update
Expected Challenges
Items to Keep in Mind
To gain instant access to this webinar recording, simply fill out the form on this page.