Building a thriving government practice can be challenging in today's environment. This webinar discusses how you can get your practice off the ground, build relationships with key decision makers, and ultimately win government business.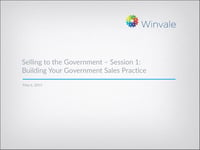 Download this free webinar to learn about:
What mistakes most contractors make when entering the marketplace and how to avoid them
Understanding the government sales processes and government buys
How to grow your government pipeline
How to get in front of the right decision makers
When and how to scale your government sales team
To view the webinar, simply fill out the form on this page.