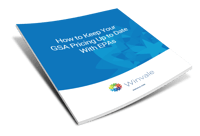 However, there are some important rules to keep in mind when preparing an EPA modification request.
Download our free whitepaper, How to Keep Your GSA Pricing Up to Date with EPAs, to learn the best way to keep your pricing up to date. In the whitepaper, you will learn:
How to determine which EPA FAR clause applies to your GSA contract
When you should submit an EPA modification
The pros and cons of annual fixed escalation rates
Which documents you need to submit to the GSA when requesting an EPA modification
To gain access to your free copy, simply fill out the form on this page.