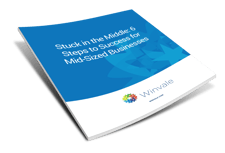 Mid-sized government contractors find themselves in an interesting position. They are often overshadowed by the major prime contractors, yet they don't have access to set-asides for small businesses.
Download our free whitepaper, Stuck in the Middle: 6 Steps to Success for Mid-Sized Businesses, to learn the path to success for mid-sized businesses. In the whitepaper, you will learn:
How partnering with small businesses can help you grow
How Mentor-Protégé relationships can work for you
How you can use your differentiatiors to win business
How research can help you find opportunities
To gain access to the whitepaper, simply fill out the form on this page.