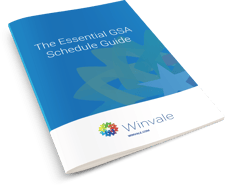 Having a GSA Schedule gives you access to an exclusive market - the US government marketplace - which includes billions of dollars of set asides for small businesses. Unfortunately, many small businesses aren't sure of how they can take advantage of this lucrative opportunity. Download our free whitepaper to learn every thing you need to know for government sales success.
Download our free whitepaper, The Essential GSA Schedule Guide, to learn:
Exactly what a GSA Schedule Contract really is
How long the the GSA Schedule application process is
The advantages and disadvantages of a GSA schedule contract
How a GSA Schedule consultant can help you with the process
7 questions to ask to vet GSA Schedule consultants
To gain access to your copy, simply fill out the form on this page.