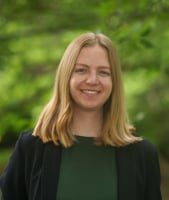 Millions of Federal Contractors Will Need to Get the COVID-19 Vaccination
Government | 4 Min Read
This blog was last updated on November 4, 2021.
The White House COVID-19 Response Team recently announced that millions of federal contractors and subcontractors must be vaccinated against COVID-19 by January 4, 2022, unless they are granted a legal exemption. This order mandates both in-person and remote federal contractors, as well as employees who are working under a covered contract to get vaccinated. So, which contracts are considered "covered" under this order and what other COVID-19 protocols will contractors have to follow to remain compliant? Let's break down the order:
The COVID-19 Vaccine Mandate for Federal Contractors
The "COVID-19 Workplace Safety: Guidance for Federal Contractors and Subcontractors" released by the White House follows President Biden's Executive Order published earlier in the month, which directs federal agencies to add a clause to contracts mandating contractors to follow certain safety protocols related to COVID-19. The guidance states that covered federal contractors must be vaccinated by January 4, 2022, and any future contractors must be vaccinated by the first day of performance for a new or extended contract.
Contractors must provide physical proof of vaccination such as the vaccination card, they cannot simply self-attest to their status. At this time, there is no listed alternative to vaccination like regular testing, unless contractors get a legal exemption. Contractors are not required to provide vaccinations for their employees, but will need to ensure their employees working under covered contracts are also vaccinated.
This order will have a trickle-down effect and will require a lot of contractors as well as their employees to get vaccinated, regardless of the size of a contractor's workforce.
Who is Affected by the Federal Contractor Vaccine Mandate?
Both Biden's Executive Order and the guidance released by the White House mention these rules apply to "covered" contractors. What does this mean?
The guidance outlines that all contracts for services (including contracts subject to the Service Contract Act, and those that are exempted), construction contracts, and contracts in connection with federal property or land above the Simplified Acquisition Threshold (SAT) fall under this category. Contract-like instruments are also included in this category. This means leases of real property, concessions, licenses, permits, task orders, and job orders.
This guidance extends very far in terms of employees working under the "covered" contracts above. It includes:
Any U.S.-based contractor employee who works on a "covered" contract whether in the office or remotely.

Any contractor employee working in connection with a "covered" contract, meaning anyone whose work is necessary for performance of the contract. Examples include HR professional hiring employees, billing clerk, and quality control officer.

Anyone who comes in contact with employees listed above at contractor facilities. This includes in the elevator, restrooms, and cafeterias.
It's important to note that this order affects federal contractors, subcontractors, and their employees at all workplace locations who are remote, in-person, or working outside. However, this only applies to contractors inside the U.S.
What About Contracts that Are Not Covered by the Order?
President Biden is strongly encouraging federal agencies to implement the vaccine mandate to non-covered contracts, so if you don't initially fall under this order, you should pay attention to future vaccine requirements.
What Other COVID-19 Protocols Will Federal Contractors Have to Follow?
In addition to requiring federal contractors to show vaccination proof, there are other COVID-19 guidelines you'll need to follow. The White House guidance also mentions masking and physical distancing requirements, as well as designating someone to enforce these workplace safety efforts.
The guidance requires covered contractors, employees, and visitors to abide by the CDC's masking and physical distancing guidelines. It also states that in areas of high transmission, all individuals (even if fully vaccinated) will have to wear masks indoors but will not need to physically distance. Anyone who is unvaccinated will need to wear a mask indoors and sometimes outdoors and remain 6-feet apart. However, if you are working from your private residence, these guidelines do not apply (except for the vaccination mandate).
Covered contractors must also designate someone to implement these measures and ensure that everyone is complying. The designated individual is also responsible for disseminating the information about masking, distancing, and vaccinated to all employees.
When Will the COVID-19 Mandates Be Implemented into Federal Contracts?
President Biden and the White House are requiring agencies to add a clause that require contractors and subcontractors to abide by the guidance. This is easier said than done when it comes to contractual language. So, what is the timeline for implementing these guidelines?
If the contract is awarded prior to October 15, 2021, and performance is ongoing, the clause must be incorporated when the contract is renewed or extended.
Agencies must include the required clause in solicitations released between October 15, 2021, and November 14, 2021. Agencies are also encouraged (but not required) to include the clause in contracts awarded during this time if the solicitations came out before October 15, 2021.
Contracts awarded on or after November 14, 2021, must have the clause incorporated into the contract's terms.
Keeping Up with Federal Contract Requirements
It seems as if every week there's some new regulation or update to keep up with in the federal contracting world. We understand that it can be overwhelming to follow it all, making sure you are abiding by all the rules and remaining compliant. If you want to be informed of all the latest government contracting news and insights, you can subscribe to our blog and our monthly newsletter. If you have questions about maintaining general compliance with your contract, we would happy to help you.
About Stephanie Hagan
Stephanie Hagan is the Content Writer and Digital Editor for Winvale where she helps the marketing department continue to develop and distribute GSA and government contracting content. Stephanie grew up in Sarasota, Florida, and earned her Bachelor's of Arts in Journalism and Rhetoric/Communications from the University of Richmond.