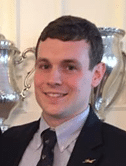 New Schedule 70 Health IT SIN
GSA Schedule | Technology | Contracts | 3 Min Read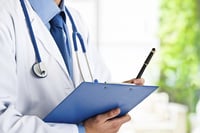 In recent years, GSA has been trying to adapt to the continuous evolution of the Health IT market. In order to reach this goal, they worked closely with vendors within the industry to help create and finalize a new Health IT SIN.
The new GSA IT Schedule 70 Health IT SIN was established as the first SIN of its kind directly correlated to Health IT in compliance with the Federal Acquisition Regulation (FAR).
The solutions that the Health IT SIN provides include:
Health Information Technology for Economic and Clinical Health (HITECH) Act
Health Insurance Portability and Accountability Act (HIPAA)
Food and Drug Administration Safety and Innovation Act of 2012 (FDASIA)
Affordable Care Act (ACA)
These solutions under the new Health IT SIN will need to comply with commercial Health IT standards, industry guidelines and federal agency guidelines, including: Office of the National Coordinator (ONC) for Health Information Technology Interoperability Roadmap, Federal Health IT Strategic Plan, Medicare Access and CHIP Reauthorization Act (MACRA).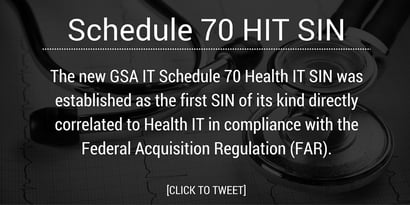 Benefits of the Health IT SIN
In addition to creating a SIN which would adhere to healthcare compliance, patient engagement and patient safety and security, GSA has focused on the internal benefits of adding this SIN. Not only is GSA improving its Health IT standards, it is also aiding agencies in acquiring more streamlined operations within the growing Health IT network. This would allow for an all-around increase in quality healthcare and a reduction in healthcare costs across the nation.
Key benefits also include:
Consolidating health IT services currently offered on IT Schedule 70 into a single solicitation
Improving ease of customer access through GSA systems, such as eBuy and GSA Advantage! for Health IT market research and acquisition planning
Providing added value to customers by establishing high-level criteria that differentiates between technologies available through the Health IT SIN vs. other SINs offering non‐health IT services
Driving visibility into Health IT sales for IT Schedule 70 for reporting and better understanding of GSA's market share of Health IT
Important Timelines for the New Health IT SIN
On June 16, 2015, GSA released a Request for Information (RFI) for vendor input, feedback, questions and/or concerns, on the decision to proceed with the implementation of this new IT Schedule 70 Health IT SIN.
On January 20, 2016, GSA held a Defense Health Agency (DHA) Industry Day where they discussed DHA's initiative to move forward with the addition of this SIN. At the event, they highlighted GSA's plan to put this initiative into action with the release of The Path Forward, which outlined a timeline of the addition of an HIT SIN:
1/19/2016 – Publish RFI on Fed Biz Ops
2/1/2016 – Industry feedback on RFI
2/1/2016 – Agency Feedback on RFI
4/22/2016 – Publish draft solicitation to GSA IT Schedule 70 Interact webpage
5/30/2016 – Final solicitation update
The Schedule 70 Solicitation with the added Health IT SIN is scheduled for launch on May 30, 2016. If you looking to expand your Health IT offerings to the federal government, this is the perfect time to contact Winvale and speak to one of our experts. We can help outline GSA's current definition of Health IT and guide you through your acquisition process.
Photo by Highway Agency
About David Baldino
As Director of Professional Services at Winvale, David Baldino focuses on leading the Government Contracts Professional Services division, which offers clients expert advice related to the acquisition and maintenance of federal government contracts, strategic consulting for the optimal execution, compliance on federal government projects, and best practices training. David is the Subject Matter Expert for all clients in a variety of industries, including Information Technology, Cyber Security, Professional Services, and Commercial Products. David is a graduate of George Mason University and has attended both Georgetown University and the University of Oxford, where his studies consisted of History and Law.