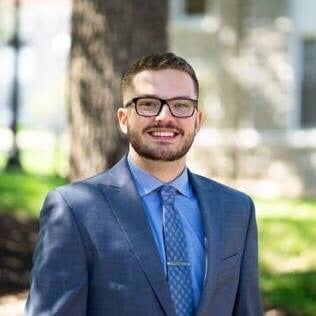 Small Business Administration Announces Revised Table of Size Standards
Government Business Development | Resources and Insight | 3 Min Read
In April 2019, the Small Business Administration (SBA) released a plan to enact revised size standards for small businesses. According to the SBA, a size standard is usually defined by the number of employees or average annual receipts and represents the largest size that a business, including subsidiaries and affiliates, may be to remain classified as a small business for SBA and federal contract programs. In 2010, the United States Congress passed the Small Business Jobs Act (Jobs Act) which requires the SBA to review all size standards every five years. Under the Jobs Act, the SBA is also required to adjust to reflect market conditions as needed, including inflation.
What's New
Under this new rule that went into effect on August 19, 2019, changes to small business size standards will face monetary-based adjustments due to inflation. These changes are expected to increase the amount of small businesses eligible for the SBA's loan and contracting programs. This is important to note as the inflation rate increased 8.37% from the first quarter of 2014 to the fourth quarter of 2018.
Do I Need to Update My SAM.gov Registration?
Businesses registered in the System for Award Management (SAM.gov) must update their SAM registration in order to have their small business status updated based on the new size standards that became effective on August 19, 2019. Until the SAM registration is updated, the SAM profiles will continue to display the small business status under the old size standards.
Your Business May Now Qualify as Small
The SBA estimates that nearly 90,000 additional businesses will gain small business status under the adjusted size standards, becoming eligible for SBA loan and contracting programs. This could possibly lead to as much as $750 million in additional federal contracts awarded to small businesses and up to 120 additional small business loans totaling nearly $65 million. These increased size standards will also allow growing businesses to stay categorized as small business under new SBA size standards, which will allow them to still compete for small business set-asides.
Inflation Adjustment Methodology
According to the SBA, the new Inflation Adjustment Methodology can be described as the following:
Selecting an inflation measure
Selecting the base and end periods
Calculating the inflation rate
Adjusting the monetary based size standards
The adjustment for inflation in this rule applies to all monetary-based industry size standards, including the $750,000 receipts-based size standard for agricultural industries, which was previously set by statute. However, section 1831 of the National Defense Authorization Act for Fiscal Year 2017 (NDAA 2017) (Pub. L. 114-328, 130 Stat. 2000, December 23, 2016) directed SBA to establish size standards for all agricultural enterprises in the same manner as for other industries and to include them in the 5-year rolling review procedures established under section 1344(a) of the Jobs Act.
Below is a summary of the size standards that will increase as under this new SBA Ruling that went into effect in August 2019.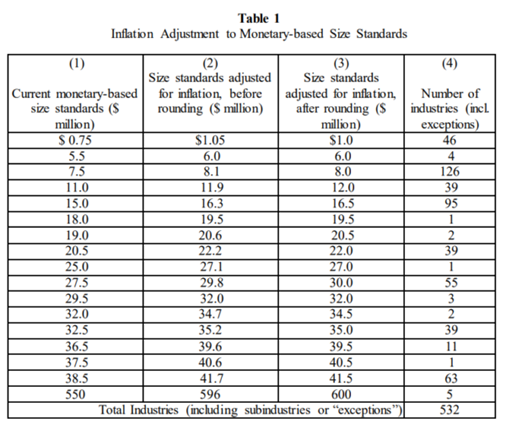 For More Information
While the SBA has moved forward with these changes, they plan to "review these size standards again in the near future to determine whether further adjustments are needed based on industry and Federal market conditions." For more information on these new changes or size standards in general, contact the size standards specialist at your nearest SBA Government Contracting Area Office. You also can contact the Office of Size Standards by email at sizestandards@sba.gov or by phone at 202-205-6618.
About Bradley Wyatt
Bradley Wyatt is a Lead Account Manager for Winvale's Public Sector Partner Program where he currently manages a diverse portfolio of Information Technology, Hardware, Software, and Services Channel Distribution Partner Accounts to accelerate their sales within the Public Sector. Bradley is a native of Fredericksburg, Virginia and a graduate from James Madison University with his Bachelor's of Science in Public Policy and Administration.