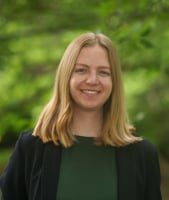 Biden Administration Updates: A Stronger Focus on Buying American
Government | 5 Min Read
The focus on buying American has continued in full force under the Biden Administration and will only continue to grow. The federal contracting landscape is constantly shifting, and there have been several domestic procurement policies introduced recently that will directly affect GSA contractors. From the Infrastructure Bill to the Buy American Act and the Berry Amendment, we'll round up all the recent legislation that is contributing to a stronger focus on buying American products, so you are well aware of what's coming.
U.S. Made Steel and Iron Required Under the Build America, Buy America Act
When the $1 trillion bipartisan Infrastructure Investment and Jobs Act was signed in November 2021, it included the Build America, Buy America Act. This act was created to strengthen made in America laws (including the Buy American Act and the "Made in America" Executive Order), support America's industrial base, protect national security, and support high-paying jobs. Most notably, it will require the use of U.S.-made iron and steel for infrastructure projects.
One major aspect of the Build America, Buy America Act which was published in a guidance by the Office of Management and Budget (OMB) on April 18, 2022, requires that the iron, steel, manufactured products, and construction materials purchased through funds of the infrastructure bill must be produced in the U.S. This will go into effect on May 14, 2022, and includes projects from bridges to highways, water pipes, or even broadband internet.
However, as with any piece of legislation, there are a few exceptions including:
If the necessary materials aren't produced in "sufficient and reasonably available quantities or of a satisfactory quality"
If U.S. materials increase a project's cost by more than 25%
If the purchase "would be inconsistent with the public interest"
Federal government agencies will determine how to apply this guidance to their infrastructure programs and processes. Regardless, the Build America, Buy America Act will have a huge impact on how agencies will purchase key materials in the coming years.
The Final Rule Added to the Buy American Act (BAA)
The Buy American Act (BAA) was where it all started in 1933. Created by President Hoover, this act encourages federal agencies to purchase domestic materials. Over time, this act has been strengthened and revised to adjust to the current federal contracting landscape. Most recently, the General Services Administration (GSA), the Department of Defense (DoD), and the National Aeronautics and Space Administration (NASA) issued a Final Rule which will raise the threshold of products that must be purchased in the U.S. This will go into effect on October 25, 2022.
Under this Final Rule, the BAA's domestic content threshold will be raised from 55% to 60% in October 2022, up to 65% in 2024, and finally to 75% by 2029. A "fallback threshold" of 55% will also be established in case end-products or construction materials are too expensive or are not available domestically.
The Berry Amendment
Similar to the Buy American Act (BAA) and the Build America, Buy America Act, the Berry Amendment promotes the procurement of certain U.S. goods. While there have been no recent changes to the Berry Amendment, it's often a lesser known yet crucial piece of legislation among government contractors.
Under the Berry Amendment, the Department of Defense (DoD) can't use appropriated funds to procure certain goods such as food, clothing, fabrics, and other made-up textiles that are not grown, reprocessed, reused, or produced in the U.S.
The Berry Amendment applies to contractors who supply the Department of Defense (DoD) over the Simplified Acquisition Threshold (SAT) of $250,000. It includes items such as:
Clothing and material components such as headwear, underwear, footwear, hosiery, hand-wear, belts, badges, and insignia
Tents and structural components of tents
Cotton and other natural fiber products
Woven silk or woven silk blends
Spun silk yarn for cartridge cloth
Synthetic fabric or coated synthetic fabric
Canvas products
Wool (in the form of fiber or yarn, or contained in fabrics and materials)
Any item of individual equipment manufactured from or containing such fibers, yarns, fabrics, or materials that are manufactured in the U.S.
Executive Orders About Buying American
To further strengthen and supplement the Buy American legislation, the Biden Administration has issues 2 Executive Orders (EOs): EO 14005 and EO 14036.
EO 14005, Ensuring the Future is Made in All of America by All of America's Workers, was created to make sure more goods and materials are procured in the U.S. It included:
Increasing the percentage of domestic content that a product must have to qualify as a domestic end-product.
Pointing the FAR Council (Federal Acquisition Regulatory) to work on a domestic value-added test to redefine a domestic end-product.
Establishing a Made in America Office – to increase level of review in order to grant a waiver to Made in America Law. The goal is to cut down on unnecessary waivers.
The purpose of EO 14036, Promoting Competition in the American Economy, is to increase competition within the American economy. This will create a competitive marketplace for better jobs, buyer choices, improve quality of life, and lower prices. This order includes 72 initiatives by more than a dozen federal agencies to address some of the most important competition problems across the U.S. economy. Additionally, this EO enforces antitrust laws to make changes in labor and employment, agriculture, internet platforms, healthcare, the transportation sector, and defense procurement.
Keeping Up with Government Contracting News
Since the government contracting landscape is constantly shifting, it's important to stay on top of any new regulations like the BAA Final Rule and the Build America, Buy America Act. To lean more in depth about the Buy American Act, check out our blog "What GSA Contractors Need to Know About the Buy American Act." If you want to learn more about government contracting and stay on top of the latest insights, check out our blog or subscribe to our monthly newsletter. If you need help navigating these acts or if you have questions about your GSA Schedule, please contact one of our consultants.