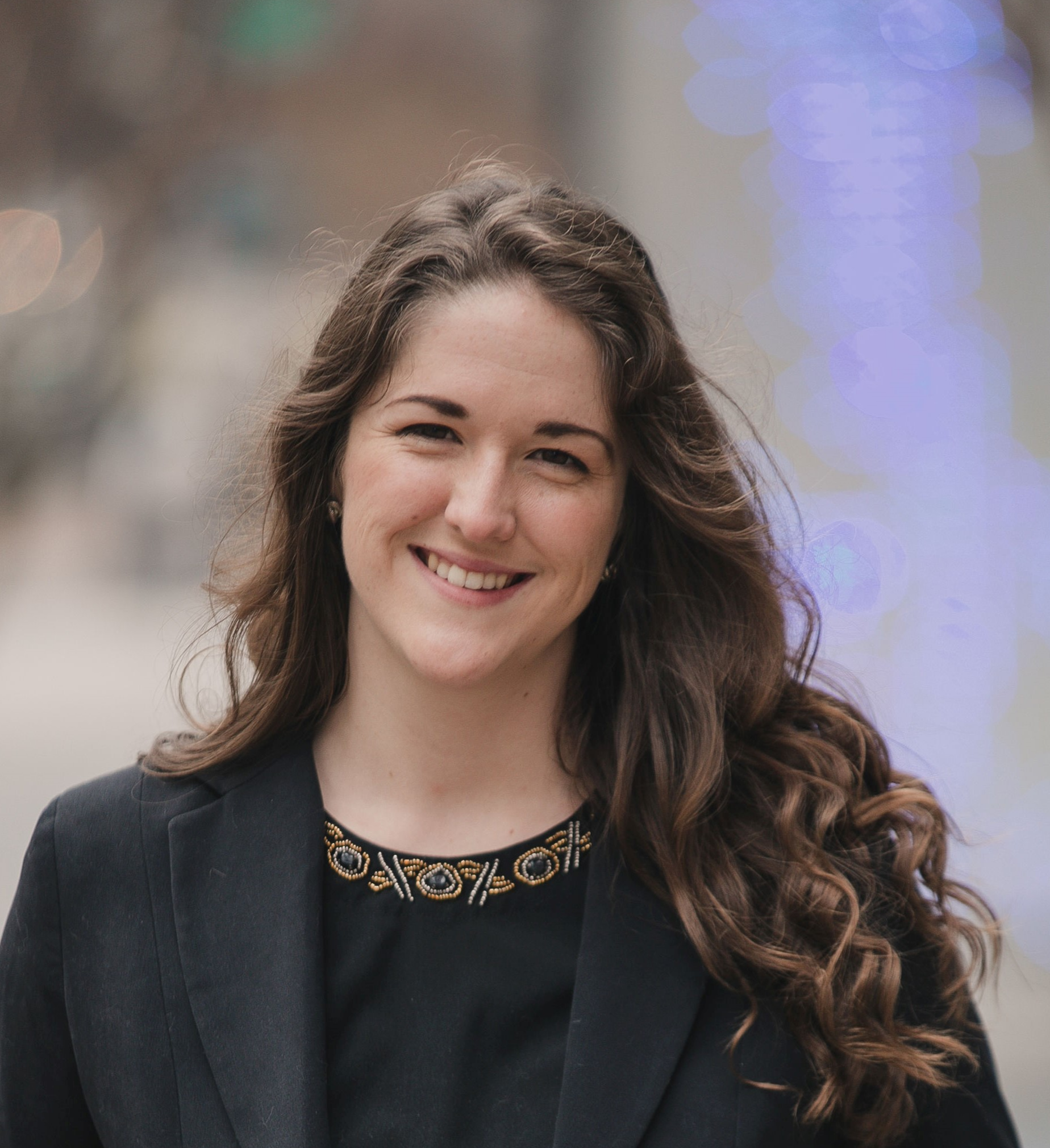 How to Find Your Cognizant DCAA and DCMA Offices
Resources and Insight | 4 Min Read
Defense contracting is a large portion of the government contracting sphere. If you are a GSA Schedule contractor working with the Department of Defense (DoD) or looking to do business with the DoD, it is probable that you will come into contact with two specific agencies—the Defense Contract Audit Agency (DCAA) and the Defense Contract Management Agency (DCMA).
The DCAA has the responsibility to monitor and audit the accounting systems of contractors in doing their work for the DoD. The DCMA, on the other hand, may be involved with pre-award evaluation of pricing and ensuring that contractors have adequate management systems in place as well as monitoring the contractor for compliance with all contract terms.
If you're a defense contractor, it's important to know how to find your cognizant DCAA and DCMA offices. Let's explore what the DCAA and DCMA do and how to find your cognizant office.
What is the DCAA?
The DCAA, or the Defense Contract Audit Agency, provides audit and financial advisory services to the Department of Defense (DoD) and other federal entities responsible for acquisition and contract administration.
DCAA provides financial oversight of government contracts and is crucial to helping the DoD get the best value for every dollar spent on defense contracting. DCAA operates under the authority, direction, and control of the Under Secretary of Defense (Comptroller)/Chief Financial Officer.
The agency's primary function is to conduct contract audits and related financial advisory services and ultimately DCAA helps determine whether contract costs are allowable, allocable, and reasonable.
What is the DCMA?
The DCMA, or the Defense Contract Management Agency, provides contract administration services for the Department of Defense, other federal organizations and international partners, and is an essential part of the acquisition process from pre-award to sustainment.
The agency has around 12,000 employees that work at offices and contractor facilities around the world. The agency manages 300,000 contracts, valued at more than $7 trillion. DCMA makes sure the DoD, other federal agencies, and partner nation customers get the equipment they need, delivered on time, at projected cost, and meeting all performance requirements.
DCMA receives nearly 1,000 new contracts every day and authorizes more than $700 million in payments to contractors. From there, DCMA helps to ensure timely delivery of products for the DoD and other federal agencies.
Both agencies are crucial to defense contractors and can be a great source of information into any and all defense contracting questions.
How Do You Find Your Cognizant DCAA Office?
The DCAA operates at over 300 field audit offices and sub-offices throughout the United States, Europe, and the Pacific. To find your DCAA office within the Continental United States (CONUS), you will use the CONUS tool on DCAA's website. You can locate the cognizant DCAA office by using a CAGE (Commercial and Government Entity) code, DUNS (Data Universal Numbering System) number, or zip code.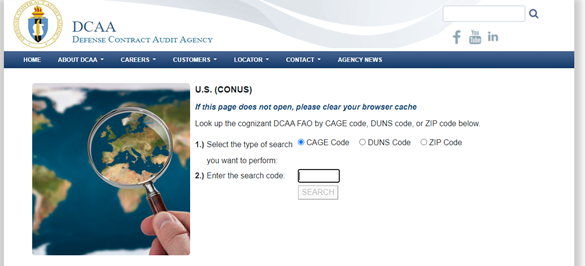 Once you enter in your CAGE code, DUNS, or zip code, you will be able to find the applicable office(s) for you in the results below the search, as seen in the screenshot below: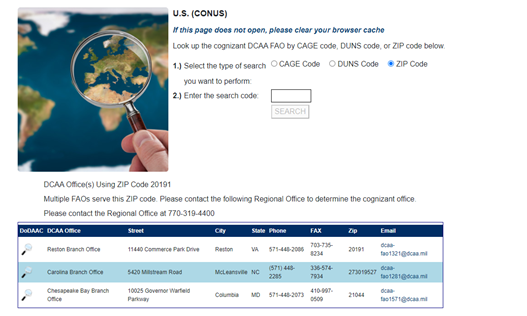 Use the OCONUS tool to locate DCAA offices outside of the continental U.S. including Hawaii and Alaska, other U.S territories, and foreign locations.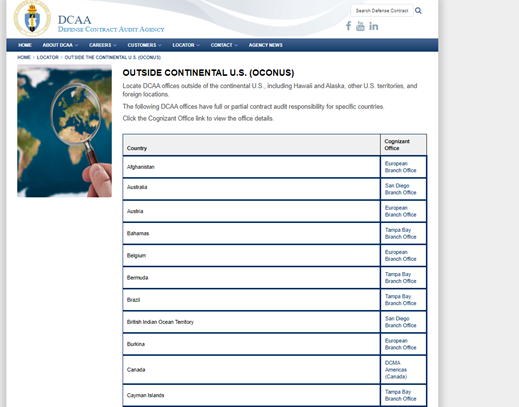 These two tools should help to locate the applicable DCAA offices. For general inquiries to the DCAA, you can reach out to them via their contact page.
How Do You Find Your Cognizant DCMA Office?
For contractors looking to find their cognizant DCMA office, there are a couple of different options.
Option A: Use the Contract Administration DoDAAC / Payment Office DoDAAC Lookup Tool.
Go to the Purchase Code Management, found here.

Enter in your CAGE code. You can find your CAGE code in your company's registration on SAM.gov.

Hit the 'Next' button and search for your cognizant DCMA office.

Option B: Locate the correct office from DCMA's website.
You will need to go to the DCMA home page. Click "CUSTOMERS" at the top of the page, and then click "CONTRACT MANAGEMENT TEAM (CMT)" from the dropdown.

The Contract Management Team Search site will then be accessed. The cognizant DCMA Administration Office can be found by either searching by "Contract/Order number", or by "CAGE" code.

Once the search criteria has been entered and the search button clicked, a page will be displayed that shows the cognizant DCMA Office (Administration Office) as follows:
I've Located My Cognizant DCAA/DCMA Office – Now What?
While knowing how to locate your DCAA and DCMA cognizant offices are an important first step, it's very possible that you may find more questions about government contracting while on this journey. Winvale has an extensive list of resources through our blog. If you find yourself needing more assistance with contract administration or compliance, reach out to the Winvale team today!