Identify Your Best Opportunities with NAICS Codes
GSA Schedule | Contracts | 3 Min Read
NAICS (North American Industry Classification System) codes are a very important part of government contracting. We've covered what a NAICS code is, how to use codes to determine if your organization qualifies as a small business, top spending trends and much more. Now that you know the basics of NAICS codes, let's talk about how you can use them to find relevant government contracting opportunities.
Each year, the government spends millions on a vast array of goods and services, buying everything from office supplies and airplanes to fitness equipment. Given the volume of procurement activities, where do you start? You can narrow down opportunities using your relevant NAICS Codes. Your NAICS codes help focus your opportunity searches, so you can zero in on opportunities that make sense for the solutions you offer.
How to Get Started Identifying Opportunities with NAICS Codes
To begin a search with NAICS Codes, you must first determine which NAICS Codes are important and relevant to your organization's offering. Try to narrow down your list to around five NAICS Codes that best represent your business's core service areas. For a complete list of NAICS Codes check out the Census Bureau's website here.
Begin a Search with Your Relevant NAICS Codes
Now that you know which five NAICS Codes you will use in your searches, it's time to get started. Use your NAICS Codes to filter your search criteria. Large procurement databases such as the contract opportunities section in the
System for Award Management (SAM.gov)
are a great place to start.
To use this feature in SAM.gov, click on "Contract Opportunities" on their homepage, and then click advanced search (shown below).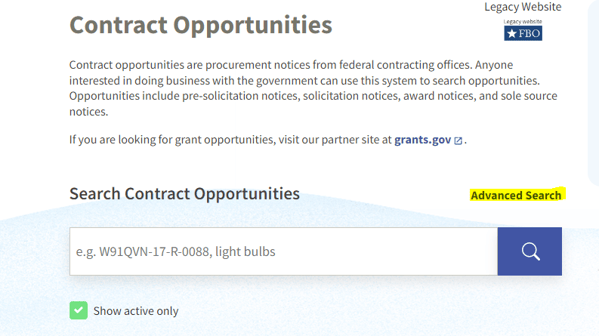 Next, go to the search panel on the left hand side and click on "Product or Service Information." This is where you will enter your relevant NAICS Codes. You can also enter related PSC or Product and Service Code if you know them, but we are focusing on NAICS Codes today.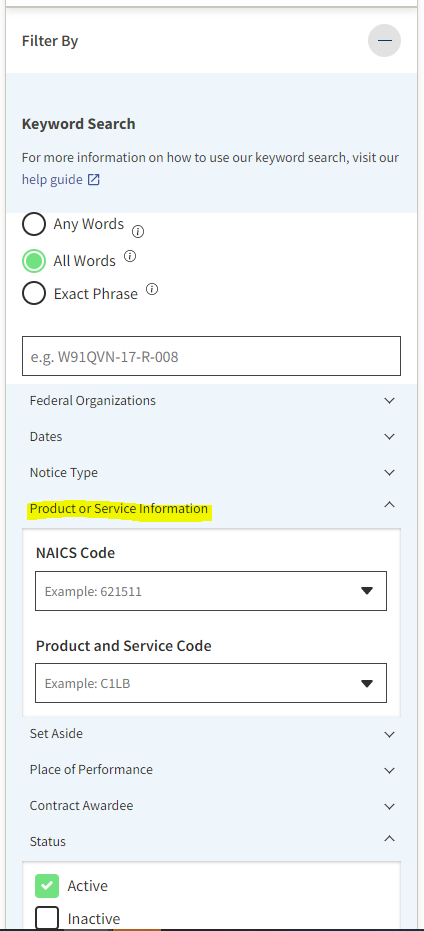 Once you enter them, relevant opportunities will pop-up related to your products and/or services. However, it might be an overwhelming amount to comb through. You can use other filters such as "Notice Type," "Dates" if you are looking for a specific time period, or "Keywords" to narrow it down more. We'll cover that more in the next section.
Search Quality Matters
When searching for opportunities, you need to use as much criteria as possible to filter your search if you want to avoid sorting through results that aren't a good fit for your organization. NAICS Codes are a key piece of this strategy, and will greatly improve the quality of search results.
However, make sure you are focusing on NAICS Codes that really represent your business. If you don't find good opportunities with your chosen NAICS Codes, you may need to reconsider those codes and choose others that are a better fit with your products and services. Keeping your NAICS Codes up to date and relevant to your organization will be important to your long-term success. Since several NAICS Codes have been altered and/or combined in 2022, it's important you review the changes and make any appropriate changes to your GSA Schedule.
As mentioned above, you should use the other filters in SAM.gov to narrow your searches and make them more relevant for you. No one has the time to qualify 10,000 opportunities. NAICS Codes will get you in the right place, and adding search parameters such as timeframe, small business set asides, and notice type, will direct you to more valuable opportunities.
Need Help with Your GSA Schedule?
Once you get your GSA Schedule you have access to a whole new marketplace, but it might be overwhelming to keep up with the regulations, maintenance, and finding opportunities. If you need help figuring out where to start, or need help with managing your GSA Schedule, one of our consultants would be happy to help you.
Or, are you unsure which NAICS Codes you should be using? We can also help you to determine which NAICS Codes are the best for you and your business.