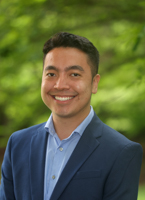 Using USASpending.gov to Your Advantage
Government Business Development | Government | 5 Min Read
We're all aware that the federal government is one of the largest buyers in the U.S. Contractors looking to tap into the federal market through GSA Schedules are first going to need to conduct market research to see where they fit in, and will need to continue to research even after they are awarded a contract. But how can we track where all the massive spending is going? Which contracts are obtaining the most cash flows? How much money does each state spend in taxpayer dollars?
These questions can be addressed using USASpending.gov. One of the most important goals for USASpending.gov is to help government buyers and sellers easily communicate around potential contracting opportunities. Here's what you need to know about the site and how to use it to your advantage.
What is USASpending.gov?
Government spending data used to be scattered across siloed business systems. Incomplete from inconsistent reporting, inaccurate from unstandardized data, unsearchable, and inaccessible to the public. Lawmakers eventually came together and developed a solution to change that. The Federal Funding Accounting and Transparency Act was signed into law in 2006. As a result, USASpending.gov, a free and searchable public website that displays information about all spending on federal awards such as contracts, grants, as well as loans was created.
Improvement Over the Years
Over the years, new laws were enacted to strengthen the value of the USASpending's website, such as the digital landmark Accountability and Transparency act of 2014. This legislation improved a number of values such as: details pertaining to award spending data, improved government-wide standards for financial and award data, as well as improved data quality by holding agencies accountable for submitted data.
Today, USASpending features a number of specialties such as: financial data submitted monthly by more than 100 federal agencies, detailed information on more than 17 million organizations, and the money they received from the federal government. Now that you know all of the tool's origins and reasons for its existence, let's dive a bit deeper into how this tool can be used to your advantage as you're conducting market research. If you haven't already, be sure to bookmark USASpending to your browser for quick access.
The Basics of USASpending.gov
This site has an overwhelming amount of features, but we'll highlight the most common ones you may need to research agency spending, budgets, or a competitor.
Researching Agencies
One feature you can use this site for is doing a deep dive into federal agencies. You can use the budget function to explore the obligated budgets in the federal government overall by Fiscal Year, and by specific agency. It'll give you the percentage and amount obligated for each category, looking something like this:

If you want to learn more about a particular agency, will see a similar set-up, and you can click on a specific agency to delve a little deeper into their budgets, awards, and spending habits: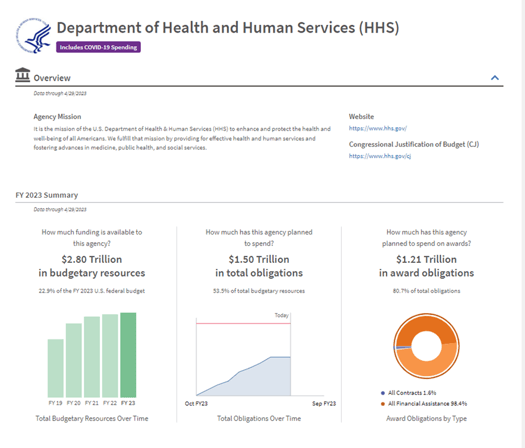 Researching Your Competitors
As mentioned above, you can use this site to research your competitors as well. Under the "Search Award Data" tab, you can use the filters to find awards and contractors by Fiscal Year, award type, agency, location, etc.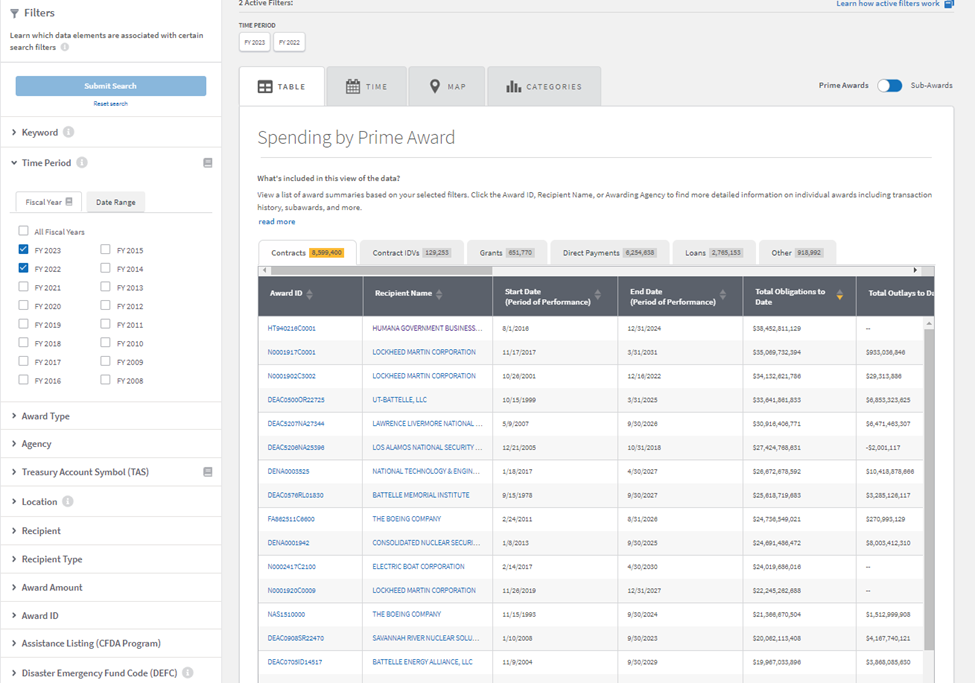 After you find a contractor that you'd like to research, you can make your selection to pull up their details on their "Overview" page. This page will list their full name, address, congressional district, business types, as well as their total awarded amount from "X" number of transactions.
The image below illustrates a selected agency that displays a graph indicating their transactions over time. This company's best year in sales just so happens to be in 2018. For whatever reason, they don't seem to be making as much well over the next few years. It is up to your internal marketers and Subject Matter Experts to determine why this is for your competitor.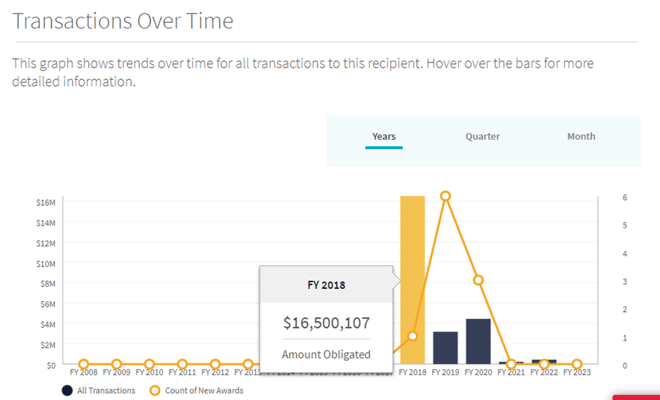 Using the Interactive Map
If you need to familiarize yourself with USASPending.gov, we highly recommend that you take the time to navigate and play around with the filters that you'll see on the left side of your screen in order to gain an understanding of the tool's capabilities.
One useful feature of the site is viewing the interactive map under the Advanced Search page in the Award Data section. You'll notice that a big chunk of filters will display a series of Fiscal Years dating all the way back to 2008. By selecting "All Fiscal Years," you'll see that the map reveals a number of taxpayer dollars spent through different shades of blue for each state.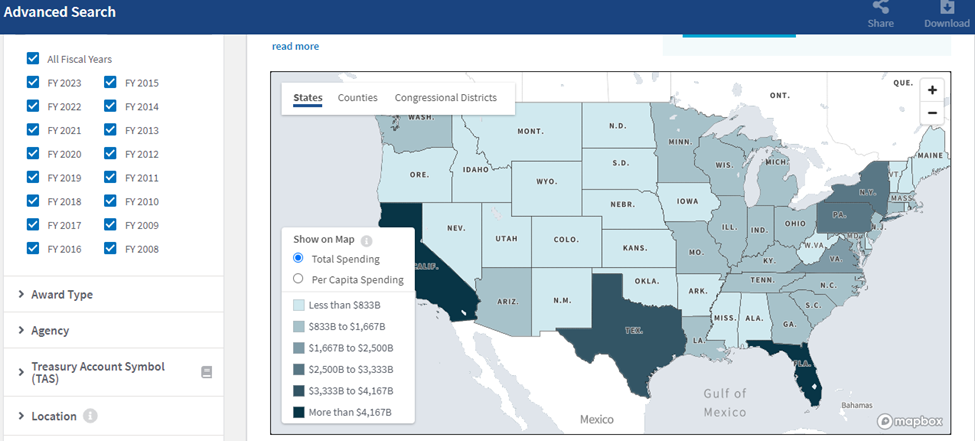 Dark blue represents the high number of dollars spent. Lighter blue represents the opposite. As you can see in the figure below, the states of California, Florida, and Texas were the heaviest spenders since 2008.
Using USASpending.gov to Your Advantage
Online government tools are generally not known to be user-friendly. USASpending, however, utilizes user-friendly data visualizations such as searchable and downloadable data. You'll also find modern data delivery items through APIs, useful categories for filtering data such as by agency, location, industry, or events such as the COVID-19 pandemic.
As a prospective or current GSA Schedule contractor, it's important to research the marketplace to learn what agencies are purchasing your solutions, what your competitors are up to, and what the federal landscape looks like in the future.
If you want to learn more about marketing and research for your GSA Schedule, check out our blogs:
If you have questions or concerns about your GSA Schedule, or need help getting one, feel free to reach out to one of our consultants.