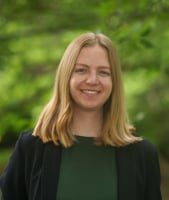 What Are Procurement Instrument Identifiers (PIIDs)?
Government Business Development | Government | 4 Min Read
The federal government is always looking for ways to streamline the procurement process so it goes more smoothly and efficiently for both contractors and government buyers. One way the government has modernized government contracting is with Procurement Instrument Identifiers (PIIDs). PIIDs are part of a uniform award identification system that helps track solicitations, contracts, agreements, or orders and related procurement instruments. Although PIIDs were created to simplify the procurement process, you might still be confused on their meaning and how they fit into the federal marketplace. Let's go over what you need to know about using PIIDs, how to read them, and why these codes are important for GSA Schedule contractors.
What is a Procurement Instrument Identifier (PIID)?
Procurement Instrument Identifiers (PIIDs) are unique alpha and/or numeric codes assigned to procurement artifacts such as contracts, solicitations, or agreements. PIIDs were implemented in 2017 to standardize procurement transactions across the federal government. PIIDs apply to both civilian and Department of Defense (DoD) agencies. Both the Federal Acquisition Regulation (FAR) and the Defense Federal Acquisition Regulation Supplement (DFARS) include guidance to using and implementing a PIID to all new solicitations and contract awards. Although PIIDs were implemented 5 years ago, they could still be a new thing to you as a contractor, since active contracts that have existed for over 5 years were not required to have a PIID.
How to Read a PIID
PIID numbers consist of 13-17 alpha/and or numeric characters and they have the following characteristics:
Positions 1-6: Identify the department/agency and the office issuing the identifier.
Positions 7-8: Last two digits of the Fiscal Year in which the procurement instrument is issued or awarded.
Position 9: This position indicates the type of instrument by entering an uppercase letter that matches the instrument. For example, Blanket Purchase Agreements = A, and basic ordering agreements = G.
Positions 10-17: These numbers are issued by the issuing agency. Agencies may choose a minimum of four characters and up to eight, but the same number of characters must be used agency wide.
The graphic below explains in more detail how the PIID is broken down. As you can see, the code is split into four different sections. They differ depending on where the PIID is assigned from, what Fiscal Year it was issued, what type of procurement artifact it is, and the specific solicitation or contract number.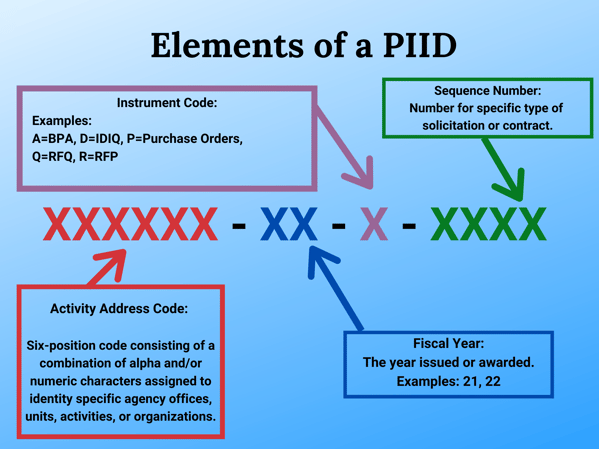 PIIDs can also have a supplementary PIID number. They are an extension of the original PIID and provide an updated version including any award modifications or solicitation amendments. For example, the first amendment to a solicitation will add 4 digits to the PIID beginning with 0001.
Can You Change Your PIID?
PIIDs should not be changed unless one of the following two circumstances apply:
If the PIID numbering system is exhausted
If the continued use of the PIID is administratively burdensome (ex: implementation of a new agency contract writing system)
If either of these cases apply, then the Contracting Officer can issue a new PIID through a contract modification.
Why Are PIIDs Important for GSA Contractors?
As we mentioned before, Procurement Instrument Identifiers (PIIDs) are a uniform method used to track solicitations, contracts, Blanket Purchase Agreements (BPA), etc. and their subsequent modifications and/or amendments. If you familiarize yourself with the structure of PIIDs, you'll easily be able to differentiate types of agreements, what Fiscal Year they were issued, if there are any modifications, and the agency where they come from.
Whether you are responding to a solicitation, or already have an established BPA, there is a unique PIID for each type of procurement agreement. This is a useful tool to have under your belt as you navigate the government contracting world. Especially if you have several contracts with the government.
It's important to note that when a solicitation becomes an awarded contract, the PIID will not remain the same. There are different types of PIIDs including: Interagency Agreement PIIDs, Acquisition PIIDs, Solicitation PIIDs, and Award PIIDs. So, if you are responding to a Request for Proposal (RFP) and it ends up in a contract award for your company, the PIIDs for the RFP and the contract award will be different.
Do You Want to Learn More About Government Solicitations?
Now that you hopefully have a strong grasp on what PIIDs are and how they relate to government contracting, you might be interested in learning more about government solicitations—what they are, where to find them, how to break them down, and successfully respond. No matter what stage, from market research in Requests for Information (RFIs) to a final proposal in Requests for Proposals (RFPs), these solicitations are an important part of business development in government contracting.
If you want to read some more on how you can engage, check out these blogs:
If you have any more questions about your GSA Schedule or need assistance with PIIDs, contact one of our consultants today.