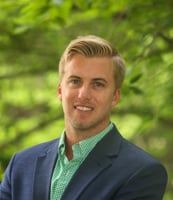 What's the Difference between N95 Masks and KN95 Masks?
Resources and Insight | COVID-19 | 4 Min Read
In what has become an unprecedented time for companies and their employees, adjusting to a "new normal" of working away from the office has been challenging for many as the COVID-19 pandemic continues. As companies begin to look ahead and plan for a return to some normalcy, continuing to practice safe social distancing measures in the workplace will be key to providing a safe and efficient workplace environment. This includes continuing to keep a 6-foot space between individuals and the use of Personal Protective Equipment (PPE) such as face masks. Differentiating between the types of masks and the protection they provide is important for companies to know before bringing employees back into the office.
What Are the Most Effective Face Masks to Use?
Two of the primary masks in use during the COVID-19 pandemic have been the N95 mask and the KN95 mask. But what is the primary difference between these two masks? First off, let's define what an N95 mask is: according to the FDA, a N95 respirator is "a respiratory protective device designed to achieve a very close facial fit and very efficient filtration of airborne particles." The edges of the respirator mask are designed to form a seal around the wearer's nose and mouth.
KN95 masks are face masks that meet the requirements of China GB2626 standards. The "standard" this refers to a filtration efficiency of more than 95% for non-oily particles that are greater than 0.3 microns in size. The N95 masks require the same standard for filtration efficiency. For all intents and purposes, the masks are able to perform the same functions. The U.S. Centers for Disease Control (CDC) says KN95 masks are as effective as N95 masks and are one of the many "suitable substitutes" for N95 masks that are in short supply. In short, KN95 and N95 masks both offer 95% protection from airborne particles and the same level of filtration.
What are the Differences Between N95 and KN95 Masks?
Although both the KN95 mask and N95 mask share some similarities, there are some minor distinctions between the two masks. Since the COVID-19 outbreak, N95 masks have been largely reserved for medical personnel, first responders, and those who have been battling the disease on the front lines. One of the reasons for this is N95 masks are considered to have slightly stronger requirements for breathability under the US Code of Federal Regulations for N95 masks. KN95 masks, on the other hand, are largely considered to be better suited for commercial and personal use. In addition to having similar functions as the N95 mask, they are also more readily available and therefore easier to access for those not working directly to combat the virus.
This chart from 3M highlights more specific differences between the two masks, in addition to showing statistics of masks that have been in use in countries such as Korea (1st Class) and Japan (DS FFRs).
N95 vs. KN95 Comparison Chart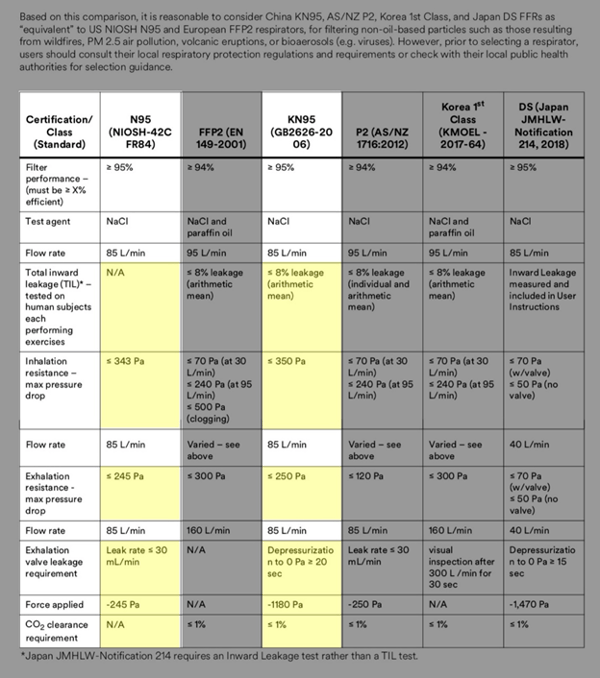 As you can see, both the N95 and KN95 masks share similar attributes in the primary measures of mask efficiency such Flow Rate and Filter Performance percentage. However, there are some slight differences between the masks that are made evident on the chart as well. The inhalation resistance is slightly higher for the KN95 mask, as is the exhalation resistance. This chart also shows how different standards of measurements were used in determining if the masks were able to meet their countries' specific requirements. For instance, unlike the K95 mask, the N95 mask was not required to meet a CO2 clearance requirement. Manufacturers were not required to run fit tests for leakage on N95 masks, but the Chinese government did require manufacturers to run mask fit tests on KN95 masks, ensuring the masks had equal to or less than 8% leakage in order to be certified.
Surgical and Cloth Masks
In addition to KN95 masks and N95 masks, surgical and basic cloth masks are common to see out in public. Unlike N95 and KN95 masks, surgical masks and cloth masks do not act as respirators and do not provide quite as much protection. Surgical masks are still useful to help filter out large particles in the air and they also may protect others by reducing exposure to the saliva and respiratory secretions of the mask wearer. Similar to surgical masks, cloth masks provide some level of barrier between air particles and your mouth and nose. Although they cannot provide the same level of protection as N95 and K95 masks, cloth masks are more accessible and reusable. Cloth masks also remind wearers not to touch their nose or mouth.
Winvale and PPE
Realizing the need to help provide PPE during the COVID-19 outbreak, Winvale is excited to announce a new partnership with MediDent Supplies (a subsidiary of No Borders, Inc.) to provide Personal Protective Equipment (PPE) to the federal government, state and local governments, and commercial business use. This includes both KN95 respirator masks and medical face masks for healthcare professionals and the first responder community through Winvale's GSA Schedule contract. These face masks are also available for both commercial and public use, with the ultimate goal to help companies create a safer space for their employees both in and out of the workplace.
Moving Forward
As businesses begin to reopen and employees slowly begin to make the transition from remote work to office work, the number one goal for all should still be safety. By continuing to practice social distancing measures and using Personal Protective Equipment, companies and employees together can help make this goal attainable. Understanding the importance of face masks and the level of protection they help provide is the first step toward ensuring safety as normal office life begins to resume. For more information about the COVID-19 outbreak and its direct effect in the government space, visit our Coronavirus Resource Library and subscribe to our blog.