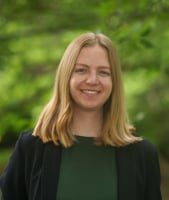 GSA Looking to Award General Construction IDIQ Contracts in Support of EV Supply Equipment
Government Business Development | Resources and Insight | 4 Min Read
A huge opportunity is coming up for small business GSA contractors—in response to recent Executive Orders surrounding sustainability and the climate crisis, GSA's Public Buildings Service (PBS) has issued a pre-solicitation for Governmentwide Multiple Award Indefinite Delivery, Indefinite Quantity (IDIQ) contracts. These general construction contracts with design-build capabilities will support the installation of Electric Vehicle Supply Equipment (EVSE) at federal government agency locations across the U.S.
The first phase of this opportunity will be a total small business set aside and the total ceiling value is estimated at $2 billion, so it's a big win for small business contractors. GSA intends to release the solicitation on or about March 17, 2022, so if your company is interested, you should begin preparing. Here's what we know so far about this upcoming opportunity.
The Need for General Construction Contracts to Support EV Equipment
In 2021, the Biden Administration released two Executive Orders (EOs) in support of the climate crisis and sustainability, which now drive the IDIQ contracts GSA plans to award. EO 14008 - Tackling the Climate Crisis at Home and Abroad places a significant emphasis on climate change initiatives throughout the government, including GSA's role in greening federal buildings as well as electrifying the federal fleet. EO 14057 - Catalyzing Clean Energy Industries and Jobs Through Federal Sustainability sets goals of cutting emissions within the federal fleet including 100% zero-emission vehicle acquisitions by 2035.
To support the 100% zero emission vehicle acquisition goal and other aspects related to electrifying the federal fleet, the federal government wants to prepare governmentwide real estate by installing Electric Vehicle Supply Equipment (EVSE) at several federal locations in the U.S. They are calling for GSA contractors to help them complete this large undertaking.
Scope of the GSA PBS IDIQ General Construction Contracts
What kind of work will GSA's PBS be looking for in these contracts? The primary NAICS Code for this opportunity is NAICS 236220—Commercial and Institutional Building Construction. As mentioned above, the scope of this contract will focus on supporting Electric Vehicle Supply Equipment (EVSE).
The work expected to be performed under these IDIQ contracts includes, but is not limited to:
Installation or modification of electrical service feeds
Switchgear
Switchboards
Panelboards
Transformers
Road surfaces such as asphalt
Concrete and other types of pavement
HVAC ductwork modification and installation
Lighting installation and modification
Modification of existing building fire sprinkler and fire alarm systems
Specific services under these IDIQ contracts include, but are not limited to:
Interior and exterior building construction
Permitting, testing, and inspection during construction
Electrical
Carpentry
Masonry
Plumbing
Mechanical
Architectural
Landscaping
Storm drainage
Fire life safety
Construction or demolition services
The period of performance for these contracts is expected to be 5 years—a 1 year base period with four 1-year options for renewal. Although GSA is the awarding agency, these governmentwide IDIQ contracts are intended to made available to any federal agency under GSA's jurisdiction.
Geographical Zones
GSA anticipates releasing approximately 6 IDIQ contracts in Phase 1 for each of the 4 zones, totaling 24 small business contracts. Each geographic zone is expected to have a ceiling of $500 million. The four geographical zones are as follows:
Zone A - Connecticut, Maine, Massachusetts, New Hampshire, Rhode Island, Vermont, New Jersey, New York, Delaware, Maryland, Pennsylvania, Virginia, West Virginia, Washington D.C.
Zone B - Alabama, Florida, Georgia, Kentucky, Mississippi, North Carolina, South Carolina, Tennessee, Texas, Louisiana, Arkansas, Oklahoma, New Mexico, Puerto Rico
Zone C - Illinois, Indiana, Michigan, Minnesota, Ohio, Wisconsin, Iowa, Kansas, Missouri, Nebraska
Zone D - Colorado, Montana, North Dakota, South Dakota, Utah, Wyoming, Arizona, California, Hawaii, Nevada, Alaska, Idaho, Oregon, Washington
Phase 2 of the General Construction IDIQ Contracts
While the second phase of these Multiple Award IDIQ contracts is still in the market research phase, it's important to see what's on the horizon for this opportunity. GSA is determining whether to set-aside all or any portion of Phase 2 for small and disadvantaged businesses including 8(a), Historically Underutilized Business (HUB) Zone, Service-Disabled Veteran Owned Small Businesses (SDVOSB), Women Owned Small Businesses or Economically Disadvantaged Women Owned Small Business (EDWOSB).
Phase 2 of these IDIQ contracts is anticipated to be used for requirements with a greater magnitude and complexity than Phase 1, and my cover a larger geographic area.
What is the Timeline for these IDIQ Contracts?
GSA anticipates releasing the final solicitation for Phase 1 on or about March 17, 2022. Phase 1 IDIQ awards are anticipated in July 2022. The draft Request for Proposal (RFP) has already been released for Phase 1, and Phase 2 is in the market research phase.
Preparing Your GSA Schedule for Upcoming Opportunities
Now is the time to make sure your offerings on your GSA Schedule are current, complete, and accurate, and ensure your website and corresponding government marketing materials are strong and target the pain points of future government customers. If you want to learn more about government solicitations and crafting responses, check out our blogs, "Everything You Need to Know About a Government Solicitation" and "3 Tips for a Successful RFP Response."
If are a prospective contractor interested in getting your own prime GSA Schedule, or would like to fast track your offerings for this opportunity and partner with Winvale on our GSA Schedule, we would be happy to help you.