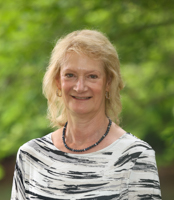 A Guide to Understanding the Federal Acquisition Regulation (FAR)
Government | 6 Min Read
If you're doing business with the federal government or plan to soon, your organization should have some fundamental knowledge of what the Federal Acquisition Regulation (FAR) is and how to know where to find certain clauses. The FAR is a complex document that outlines a set of rules and regulations for the federal government's purchasing process. In other words, the FAR is essentially the primary rule book for executive agencies looking to acquire products and services.
As a government contractor, it's really useful to not only know the definition of the FAR, but also how to read it so you can understand how contracts operate and what regulations need to be followed.
What is the Federal Acquisition Regulation (FAR)?
The FAR was created to form a system for all executive agencies to follow clauses related to government acquisition, planning, and contract administration. It's comprised of comprehensive guidelines for agencies concerning the purchase of supplies and services to ensure consistent procurement policies and procedures.
The FAR is governed jointly by the Department of Defense (DoD), the General Services Administration (GSA), and the National Aeronautics and Space Administration (NASA).
Compliance with the FAR is important for a contractor considering doing business with the federal government. By adhering to the guidance found in the FAR, the chances to win contracts, avoid legal encounters, and preserve long-term associations with federal agencies increase.
How the FAR is Organized
The FAR consists of 53 parts, each concentrating on detailed facets of the acquisition procurement. In addition, it's supplemented by agency-specific regulations including the Defense Federal Acquisition Regulation (DFARS).
Overall, it's organized in 8 subject matter areas:
Parts 1- 4: General
Parts 5 – 12: Competition and Acquisition Planning
Parts 13 - 18: Contracting Methods and Types
Parts 19 - 26: Socioeconomic Programs
Parts 27 - 33: Contracting Requirements (Cost Principles)
Parts 34 - 41: Special Categories
Parts 42 - 51: Contract Management
Parts 52 - 53: Clauses and Forms
To make it easier to understand the FAR, contractors should try to familiarize themselves with the general terminology used in the guide. Refer to Part 2 – Definitions of Words and Terms. Reading carefully by section will be less overwhelming – FAR Parts/Subparts.
FAR 1.105-2 explains the arrangement of regulations and you will find a helpful diagram that illustrates how the FAR is organized.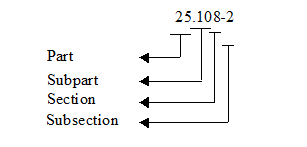 FAR 52.101 explains all FAR provisions and clauses, with their own subsection. The following diagram illustrates the numbering system of the FAR clauses.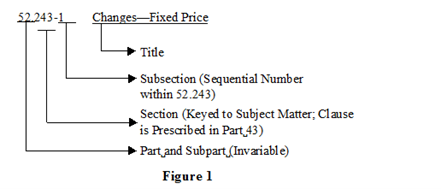 It would be beneficial to determine what sections of the FAR apply to your particular situation. You could refer to the table of contents to steer to the applicable parts of the FAR. Small businesses will find the Part 19, Small Business Programs and Part 52, Solicitation Provisions and Contract Clauses relevant to their federal contracting potential solicitations.
Notable Sections of the FAR
FAR Part 19: Socioeconomic Programs
FAR Part 19 describes how a certain percentage of contracts and subcontracts must be awarded to small businesses, i.e:
FAR Part 19 outlines small business size standards and concludes small businesses can compete in federal contracting and support reasonable competition with the federal government market.
In addition, FAR Part 19 defines policies and procedures to follow regarding subcontracting in federal procurement contracts. The policy and procedures involve:
The bidder develops a subcontracting plan that defines goals and reporting progress to submit.
The Contracting Officer reviews the proposed subcontracting plan to determine if acceptable.
Contractors must regularly report their performance based on requirements.
The Contracting Officer could periodically review compliance with contracts.
This regulation holds the prime contractors accountable to the provisions stated in the subcontracting plan.
FAR Part 52 – Solicitation Provisions and Contract Clauses
FAR Part 52 consists of a group of clauses and provisions in contracts that stipulate certain Terms and Conditions (T&Cs) in the agreement between the government and a contractor. The clauses include:
Inspections and Acceptance
Changes
Termination
Payment and Invoicing
Disputes
The T&Cs of a contract are defined and agreed upon by all parties involved – this will stipulate changes to the work, payment terms, delivery schedules, and other important factors of the agreement. This section is really important for contractors responding to bid opportunities. If you want to respond to a Request for Information (RFI), Request for Quote (RFQ), and Request for Proposal (RFP), you can use the FAR to fully read up on and understand the solicitation provisions and clauses.
FAR Part 14—Sealed Bidding
FAR Part 14 describes the rules and regulations for sealed bidding procurement methods used by government agencies to purchase goods and services. As a contractor, pay attention to the detailed requirements and conditions for awards, information for bidders and deadlines for submitting bids.
On the agency side, it covers bid opening and evaluation, award procedures, contract award protests, amendments and changes. This part is significant in channeling the government's procurement process to ensure fair market price, safeguard transparency and competition in the procurement process, and determine best value for the government.
FAR Part 15—Contracting By Negotiation
FAR Part 15 relates to the negotiated acquisitions with the objective of gaining the best value for the government. Within FAR Part 15, it stipulates the source selection process, negotiation procedures, technical evaluation, cost and pricing data, and proposal evaluation. It's an organized methodology to evaluate proposals for the procurement of goods and services. All must be conducted in a reasonable and competitive manner which would result in the best value for the government.
Competition requirements are in FAR Part 6 – A Deep Dive into Federal Government Competition Requirements will provide context.
FAR – Terms and Conditions
Standard terms and conditions are called clauses and by regulation non-negotiable. Important clauses to standard government contracts include:
Management of the FAR—Keeping an Eye Out for Changes
The FAR is administered by the Office of Federal Procurement Policy (OFPP) within the Office of Management and Budget (OMB). When deemed necessary, the FAR will be updated several times a year due to changes in policies, regulations, and laws. So far this year, there has been multiple Small Business Program Amendments to the Federal Acquisition Regulation (FAR).
There is a lot to learn and understand about FAR. For the most part, by separating the FAR into smaller sections, you can begin to understand the various rules and regulations. If you are interested in federal acquisition and would like to learn more, check out our blog, 13 Important Federal Acquisition Regulation (FAR) Clauses for GSA Contractors. If you have questions about maintaining your GSA Schedule, feel free to contact one of our consultants.
About Leslie Crowley
Leslie Crowley is a Lead Account Manager for Winvale's Public Sector department where she manages partner accounts under Winvale's GSA MAS Large Category F contract. Leslie has vast experience building new business, securing customer loyalty, and forging strong relationships with external business partners.