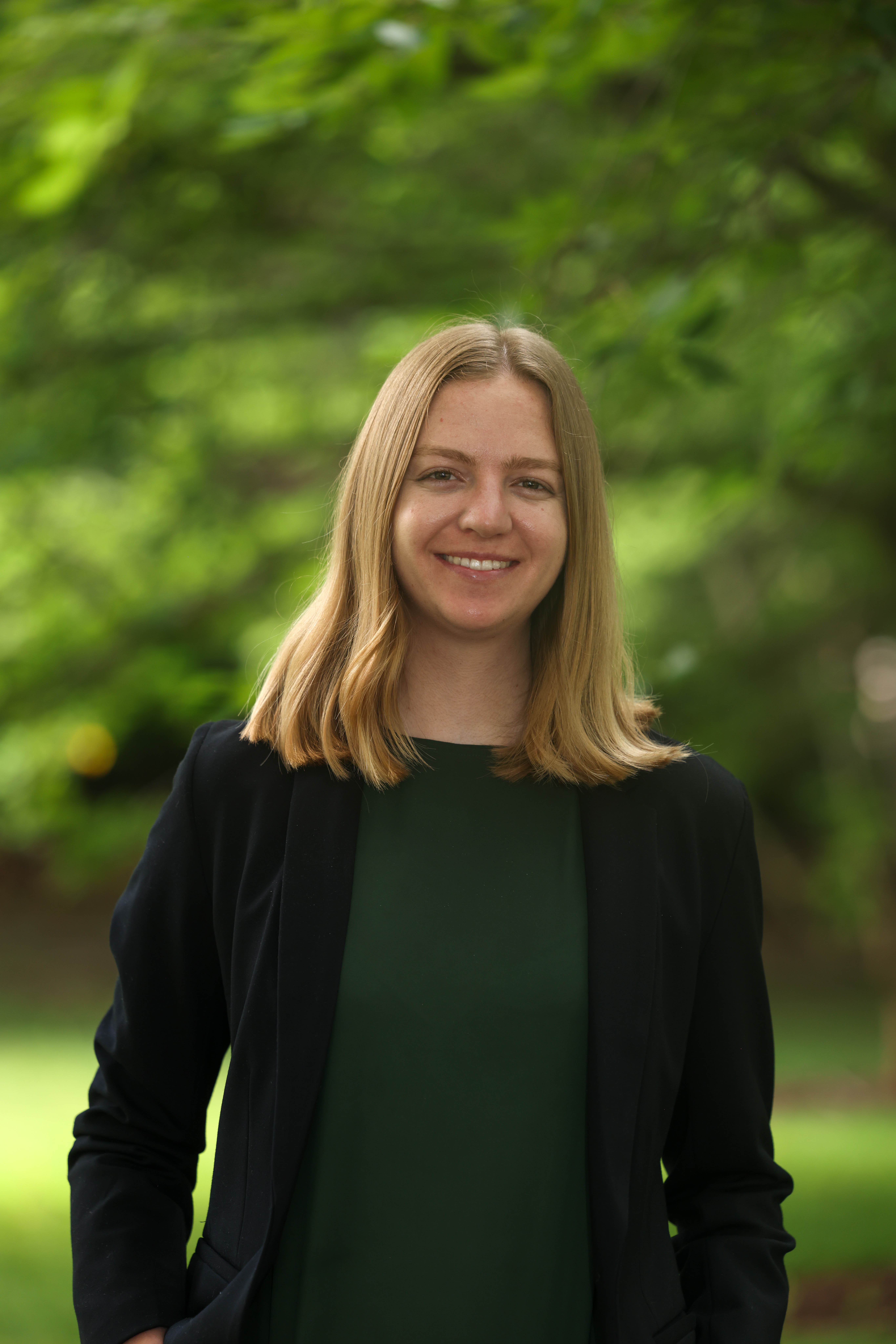 What Are National Stock Numbers (NSNs)?
Government | 5 Min Read
Since the federal government is so vast and is comprised of hundreds of agencies, departments, and units, organization is key. This is especially true when it comes to government contracting. One of the numerous ways the government streamlines and standardizes the procurement process is with National Stock Numbers (NSNs).
NSNs are a crucial component of federal procurement because they were created to reduce duplicate items in the federal inventory and standardize military requirements for testing. Although you may have heard of NSNs before, you might have questions like: how do I read the NSN format, how is an NSN assigned, or how can I find NSN data? Let's go over everything you need to know about NSNs.
What is a National Stock Number (NSN)?
A National Stock Number (NSN), also referred to as a NATO Stock Number, is a serial number applied to an item that is repeatedly procured, stocked, stored, and issued throughout the federal supply system.
National Stock Numbers (NSNs) are used to identify and manage every product imaginable, including tires, aircraft parts, hammers, and lightbulbs. Each item is assigned a unique series of numbers giving information about the name, price, physical/performance characteristics, manufacturer, and dimensions.
NSNs are officially recognized by the U.S. government, NATO, and several other governments internationally, making it a universal catalog system. Each year, the Department of Defense (DoD) and other federal agencies use NSNs to procure billions of products.
Why Were NSNs Created?
Before NSNs existed, different names were often given to the same items, making it difficult for agencies to locate supplies or share items of supply. During times of great need like WWII, a lot of products were depleted while others were in surplus.
NSNs were created to keep everyone on the same page—they form a standardized classification system that eliminates discrepancies. Today, NSNs are used to identify and manage 7 million active products in the Federal Logistics Information System (FLIS).
National Stock Number Format
National Stock Numbers are comprised of a 13-digit code broken down into several sections:
First 4 digits: Represent the federal supply class, and the first 2 digits of the Federal Supply Class are the Federal Supply Group. For example, if the first 4 digits were 1830, the "18" would signify the Federal Supply Group titled Space Vehicles, and "1830" as a whole would signify Space Vehicle Remote Control Systems. If the number were "1820," then it would be Space Vehicle Components.
Second 2 digits: Represent the NATO Country Classification Code, or the country of origin. For example, the United States would be "00" or "01."
Last 7 digits: Are unique to each NSN.
This graphic below shows the breakdown of the code: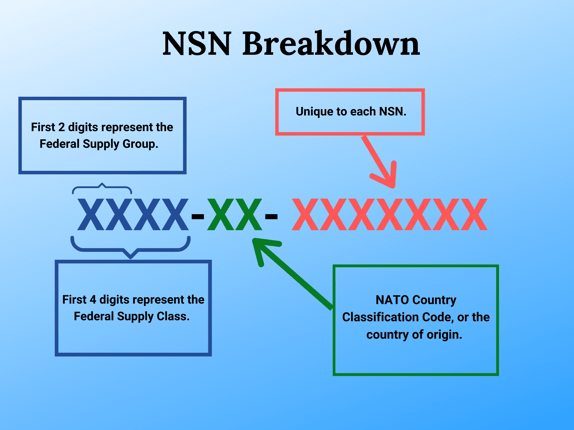 National Stock Number Assignment and Request Process
Whenever military services, certain federal or civil agencies, or international partners request an NSN, the Logistics Information Services will assign them. The assignment process is called cataloging. During cataloging, each item of supply is named, assigned a Federal Supply Class, and described so all known characteristics and performance data can be notified.
There are 3 reasons an NSN can be assigned:
Whenever a new weapons system is developed: The DoD component responsible for the new system will identify the spares needed to maintain the system throughout its life cycle. Spares without NSNs will be identified and requested.
Demand planning: When a non-stocked item is repeatedly ordered (2 or more times in a 6-month period period), it can be requested and determine if it qualifies as an NSN.
Requested by an authorized submitter. If Military Services or federal/civil agency recognize an NSN is needed, they can request it.
It's important to note that manufacturers and resellers (that includes GSA contractors), do not have the authority to request an NSN. Private industries can't just submit their CAGE code and part number to the DLA to be added to the NSN or request an NSN. They must be sponsored by one of the authorized submitters listed below:
DoD Component
Federal/Civil Agency
International Partner
Contractor Supported Weapon Systems
How to Update NSN Data
Over time, your part numbers may need to be adjusted, and your product specifications can change. Manufacturers, vendors, and suppliers can review and update their product information and reference numbers including your CAGE number or part number on Interactive Government & Industry Data Edit & Review (iGIRDER).
Ways to Access National Stock Number Data
Like anything with the government, there are several databases that can help you search and access information about NSNs.
The first one is Public Logistics Data, or PUB LOG. PUB LOG is a public website and does not require a subscription or Common Access Card (CAC) authorizations. On this site, you can search NSN data, FLIS data including NSNs and their associated supply data, characteristics data, and much more. PUB LOG can be downloaded from the Federal Logistics Information Services (FLIS) Data Electronic Reading Room. PUB LOG is updated every 30 days.
The next option is Federal Logistics Data (FED LOG). This site is more restrictive because it's for the federal view only. Only government employees with a Common Access Card (CAC) can log-on to FED LOG. With FED LOG, you can access FLIS data even when internet connectivity is unavailable. This system provides NSN data, National Stock Number (NSN), the Approved Item Name, Manufacturers and Distributors information (to include Part Numbers), Physical and Performance Characteristics, etc. FED LOG is updated every day.
Authorized users can also access FED LOG from the FedMall site. FedMall provides visibility to customers looking to purchase an item, and it contains all the active Defense Logistics Agency (DLA) managed NSNs.
Do You Want to Learn More About NSNs?
It's clear that NSNs streamline the procurement process and make it easier for government agencies to get the items they need in a timely manner. If you have a GSA Schedule contract, or are thinking about getting one, you should look into the benefit of having NSNs. Government buyers can acquire NSNs through GSA's Global Supply Program from several categories including, but not limited to: furniture and furnishings, healthcare furniture, security containers, and 3D printer filaments.
If you have any questions about NSNs, how they relate to your GSA Schedule, or NSN research, reach out to Winvale, and we can direct you to someone who can help.
About Stephanie Hagan
Stephanie Hagan is the Content Writer and Digital Editor for Winvale where she helps the marketing department continue to develop and distribute GSA and government contracting content. Stephanie grew up in Sarasota, Florida, and earned her Bachelor's of Arts in Journalism and Rhetoric/Communications from the University of Richmond.