General Services Administration (GSA) IT Schedule 70 is a GSA Multiple Award Contract for Information Technology services and products negotiated with and awarded by the GSA. Under the GSA Multiple Award Schedule (MAS) Program and IT Schedule 70 in particular, the Federal government, as well as State and Local government entities can meet virtually every single purchasing need by buying products and services directly from GSA approved vendors at pre negotiated prices. GSA contracts offer government customers direct delivery of high-quality commercial supplies and services at discount pricing.
IT Schedule 70
There are numerous solicitations available under the GSA schedule program, each representing different industries. IT Schedule 70 is the largest and most widely used acquisition vehicle in the federal government. IT Schedule 70, which generated $14.5 billion in fiscal year 2014 accounted for more than 40% of 2014 volume. As shown in table below, the Mission Oriented Business Integrated Services (MOBIS) schedule is the second most popular GSA schedule measured by sales, followed by Professional Engineering Services (PES) and Financial and Business Solutions (FABS):
TOP 10 GSA Schedule Contracts in FY2014 (Billions)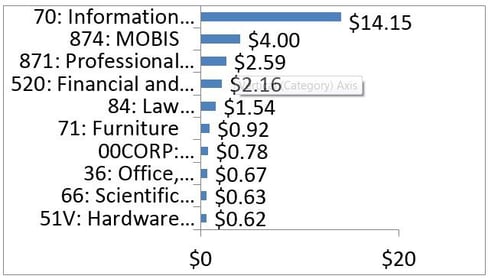 As an important note to the table above, GSA is currently combining all professional services schedules into one massive GSA contract named the Professional Services Schedule, however, GSA IT Schedule 70 will remain its own contract vehicle and will only share SIN 132-51 (IT Services) with the Professional Services Schedule. Below are IT Schedule 70's Solutions and Special Item Numbers (SINs) categorized based on government mandates, industry evolution, and buying trends:
Cloud IT Services

Computer and Networking Hardware

Cyber Security

Data Center and Storage

IT Mandates and Initiatives

Satellite Services

SmartBuy: Commercial Software Solutions

Software and Applications

Sustainability

Systems Life Cycles Integration

Telecommunications, Wireless, and Mobility

Telepresence
Available to State, Local, and Tribal Governments
IT Schedule 70 is also unique for being one out of only two GSA schedules currently available to State, Local, and Tribal governments (the other one being GSA Schedule 84; Total Solutions for Law Enforcement, Security, Facilities). When IT Schedule 70 was first introduced to State and Local governments, sales were initially slow but efforts to increase awareness have truly paid off. GSA officials expect continued strong growth in IT Schedule 70 purchases by State and Local governments, following a huge jump in sales. The usage of IT Schedule 70 by State and Local governments increased almost 30% in FY2014, to $846 million in volume.
Companies aspiring to get on GSA IT Schedule 70 must (as with any government contract) submit a full and complete proposal responding to its latest solicitation revision. The proposal must adhere to solicitation requirements including past performance; financial capabilities and pricing requirements.

About Carina Linder
Carina Linder is an Engagement Manager with more than five years of experience in GSA contract proposal writing and contract negotiations. Her expertise is in contract compliance consulting, Federal Acquisition Regulations (FAR) and procurement procedures.