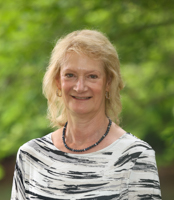 What is a VPAT?
5 Min Read
Information Technology (IT) is consistently one of the top industries in federal contracting, especially within the GSA Multiple Award Schedule (MAS) program. As an IT contractor, you may be very aware of all the extra regulations you have to follow to make sure everything aligns with IT and cybersecurity policies. The government takes security very seriously, but they also put an emphasis on accessibility through Section 508 standards. Did you know there's an accessibility document specifically for communication technology products?
The Voluntary Product Accessibility Template (VPAT) is a report that provides information on how accessible a particular product such as software, hardware, or electronic content really is. Here's what you need to know about VPAT accessibility and compliance.
What is the Voluntary Product Accessibility Template (VPAT)?
As mentioned above, VPAT stands for Voluntary Product Accessibility Template. VPAT is often used by organizations to evaluate and compare the accessibility of different products and technologies, particularly applies in the procurement or development of software or technology.
The VPAT includes an itemized checklist that covers different characteristics of accessibility, such as support for assistance technology, keyboard access, and color contrast. The VPAT is often used in combination with accessibility standards such as the Web Content Accessibility Guidelines (WCAG) to guarantee that a product or technology will meet the needs of people with disabilities.
Why is a VPAT Required?
A VPAT is often required by the government to ensure that the products and technologies they are using are accessible to people with disabilities. According to Section 508 of the Rehabilitation Act in the United States, federal agencies must use technology that meets specific accessibility standards. In addition, many organizations have their own accessibility policies and requirements.
A VPAT can also help agencies assess the potential impact of technology on their personnel or user base, identify potential accessibility obstacles, and make educated decisions about the technology they choose to use or develop.
When is a VPAT Required?
GSA recommends contractors generate a VPAT document for any Information Communication Technology (ICT) that's intended to be marketed to the federal government. So, if you are planning on selling related products on your Schedule, you'll need to fill out a VPAT.
What Does the VPAT Look Like?
Before we begin, be sure to use the most current VPAT template, which you can find here. The first part of the template is the "Essential Requirements and Best Practices for Information and Communication Technology (ICT) Vendors." It's important to read this section thoroughly as it provides directions for reporting product compliance on the three main accessibility standards and guidelines using VPAT.
The next section of the VPAT is the "Company Accessibility Conformance Report."
The vendor will be required to complete the following in the Conformance Report Sections:
Report Title
VPAT Heading Information
Name of Product and Version
Product Description – brief description of product
Report Date
Point of Contact Information
Notes – additional information
Evaluation Methods Used – description of methods used to complete the VPAT
Standards and/or Guidelines – answer Yes/No to Levels A - AAA
Terms – Conformance level information
Tables for each Standard or Guideline
Report Information – Standards conformance information in 3 column tabular format
WCAG Tables
Here's an example of what a Conformance Report would look like:
It's important to note there are three levels included in a VPAT, which we'll outline below.
VPAT Level A
In this level, the product will need to meet the minimum accessibility standards. This conveys that some accessibility features may not be present, or some may only be partially implemented. A VPAT Level A product may still have accessibility obstacles that make it challenging for some clients with disabilities to use the technology.
For example: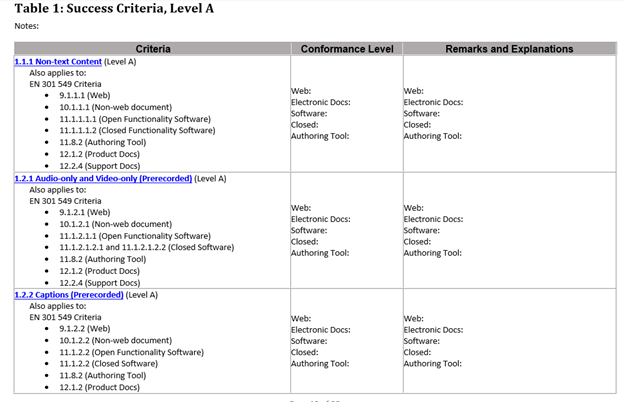 VPAT Level AA
This level requires that the product meets a more comprehensive set of accessibility standards. A VPAT Level AA product provides a higher level of accessibility accommodation and should be more functionable for clients with disabilities. This level includes all the checkpoints under Level A, along with supplementary requirements to meet WCAG 2.1 Level AA accessibility standards.
For example:

VPAT Level AAA
Level AAA is the highest level of accessibility provided by a product. It meets the most comprehensive and rigorous set of accessibility standards. In addition to the Level A and Level AA requirements, products with a VPAT Level AAA provide the most comprehensive level of accessibility accommodation obtainable and are more likely to be functional by as many clients with disabilities as possible. Nevertheless, it is important to note that achieving Level AAA accessibility can be demanding, and often requires considerable effort and resources to accomplish.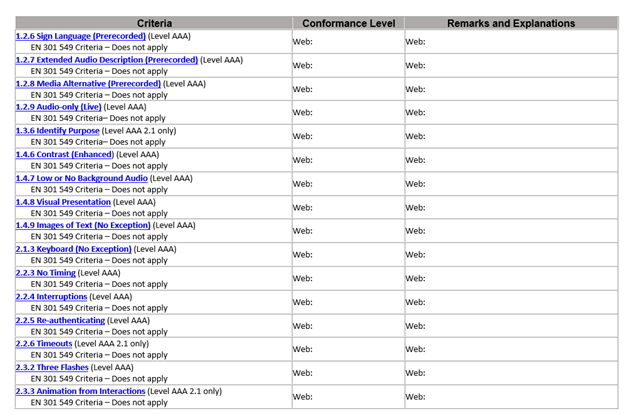 For detailed information on Web Content Accessibility Guidelines (WCAG) 2.0
Why Should I Have a VPAT?
There are various benefits to having a VPAT, including:
Advocating accessibility: A VPAT motivates technology vendors and developers to consider accessibility from the beginning, and to integrate accessibility elements into their products.
Meeting legal requirements: Every federal agency or any contractor that works with a federal agency, needs to meet the terms of Section 508 of the Rehabilitation Act of 1973, which requires technology products and services to be accessible to people with disabilities. It's very important to complete your VPAT correctly so your company will not face legal action.
Reinforcing procurement decisions: A VPAT can help agencies make educated assessments when procuring technology products, by delivering a standardized format for evaluating the accessibility of different products.
Successful communication: A VPAT can help technology vendors and developers communicate the accessibility characteristics of their products to clients and end users.
Encouraging ongoing improvement: A VPAT provides a guideline for contractors to determine their accessibility status, and pinpoint sections for upgrading.
Overall, a VPAT helps promote more inclusive technology systems by encouraging contractors to be concerned about accessibility problems, and by delivering a document for government agencies to make educated judgements about technology that accommodates everyone's challenges.
Compliance with Your GSA Schedule
We know getting started and keeping up to date with your GSA Schedule can be challenging. If you have questions about VPAT, other aspects of contract maintenance, or how get started with a GSA Schedule, we would be happy to help you. For additional information on Section 508, check out our blog Section 508 for Contractors: What is it and Who Has to Comply?
About Leslie Crowley
Leslie Crowley is a Lead Account Manager for Winvale's Public Sector department where she manages partner accounts under Winvale's GSA MAS Large Category F contract. Leslie has vast experience building new business, securing customer loyalty, and forging strong relationships with external business partners.