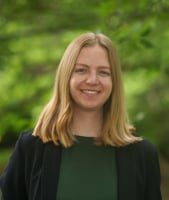 GSA Launches Buy.GSA.gov to Simplify the Federal Buying Process
GSA Schedule | Government Business Development | 3 Min Read
For years, the federal acquisition industry has been asking for a more efficient way to make smarter purchases while saving taxpayer dollars. GSA has answered these calls for improvement with a solution—buy.gsa.gov.
GSA has launched buy.gsa.gov, a new tool to help simplify the federal procurement process. This site will benefit both government agencies (buyers) and GSA contractors (vendors) as they can access streamlined market research, searchable templates, and interactive resources. While this tool is still in its testing phase, you can toggle around the site and send your feedback to GSA. Here's what you need to know about this new tool and how it may help you navigate the procurement process.
What is Buy.GSA.gov?
Buy.GSA.gov will become the starting point for all things related to federal buying. This buyer experience tool was created to provide pertinent information related to the acquisition process. This site caters to both government buyers and vendors of all levels of experience (as seen on the homepage below).
GSA anticipates the site to grow to include GSA's best market research tools and all the solutions needed to assemble a successful acquisition package.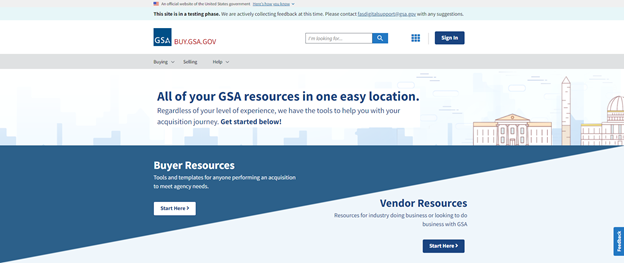 Why Was Buy.GSA.gov Created?
Buy.GSA.gov was created to address pain points and past criticisms in the procurement process. The federal acquisition community wants a simpler way to access information needed to make smarter purchases while saving taxpayer dollars. Before launching the tool, GSA conducted governmentwide user research and usability testing among GSA acquisition experts, federal agencies, and vendors.
Simplifying the GSA Schedule Procurement Process
How is buy.GSA.gov going to simplify the federal procurement process? This new tool has myriad resources related to buying and selling through the federal government.
Under the buying section, users can browse buyer resources, acquisition stages, information on Performance-Based Acquisition (SPBA), specific Large Category information, and training and events. This platform outlines a 4-step process to teach users about the federal buying experience. These steps are: plan, develop documents, research products, services and pricing, and request quote or purchase. Users can also browse samples, templates, and tips for Performance Work Statements (PWS), statements of work, and other documents required for services purchases.
In the selling section, users can browse several of GSA's sites and tools related to the procurement process. This includes a contractor start-up kit, Forecast of Contracting Opportunities, the Vendor Support Center, and information about marketing to the federal government.
Other features of buy.GSA.gov include:
A new interactive checklist with self-help modules that helps buyers complete each step of building an acquisition package.
The ability to perform simple keyword searches for vendors and contracts across GSA's Multiple Award Schedule (MAS), Governmentwide Acquisition Contracts (GWACs), and Multi-Agency Contracts (MACs).
Advanced filters to quickly narrow down results to find specific contract vehicles and vendors that meet missions requirements or Small Business Administration (SBA) targets.
Great price estimation tools all in one place including the Contract-Awarded Labor Category (CALC) tool that helps find awarded prices to use in negotiations for labor contracts.
The ability to save/bookmark documents and market research results to acquisition project folders.
Downloadable samples and templates to help with completing the complex documents federal buying requires.
Using GSA's Tools and Sites to Your Advantage
Acquiring and maintaining your GSA Schedule is not an easy job. It's important contractors are aware of all the tools and sites GSA offers to contractors to help them find contracting opportunities, access educational material, sell their products and services, and maintain compliance. Some of these sites have been around for several years, but GSA has been busy updating and improving sites to make them more user-friendly for both government buyers and GSA contractors. From the new Vendor Support Center to SAM.gov, to an updated eBuy, contractors have several helpful and modernized sites at their fingertips.
To learn more about how to take advantage of and navigate GSA's sites, check out our blog, "An Essential Guide to GSA Websites." If you want to stay updated on the latest government contracting news and insights, check out our blog and subscribe to our monthly newsletter. If you have questions about your GSA Schedule or if you want to learn more about getting one, contact one of our consultants.