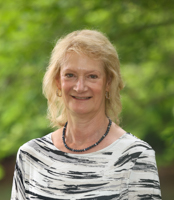 How Small Businesses Can Develop Relationships with Government Agencies
Government Business Development | 6 Min Read
When you enter a new marketplace, one of the first things you think about is how you can create and maintain contacts. While the federal marketplace works differently from the commercial world, it's still something that's relevant. Especially when you are responding to active contracting opportunities.
So, how can a small business develop a relationship with a government agency? We won't sugar coat it—it's a challenge, but it's doable with the right tools and understanding. We have written about tips for small business marketing and tips for interacting with government customers, but in this blog, we put together a few ways that could help you forge a successful relationship with government contacts.
Step 1: Make Sure Your LinkedIn is Updated and Engaging
LinkedIn is primarily thought of as a tool for personal network connections and finding new jobs in the commercial space, but it's also a useful resource for making government connections and learning more about the agencies you want to develop a relationship with.
Most importantly, your company website and LinkedIn should be up to date and encompass fresh content. What is your area of expertise? That should be defined in your website as well as LinkedIn. Try to keep technical terms to a minimum so potential government clients will understand your professional experience. Using some "Govspeak" or government terms and language could help build a connection.
Create relevant content consistently. Content plays an important role in attaining your business objectives such as brand recognition. Potential clients want to do business with someone they know and trust. Try text updates, photos, graphics, video, white papers, webinars, blog posts, links to relevant articles to drive an agency to your website. Each content release should concentrate on a specific issue that would be of interest to the agency to drive them to your website.
Why LinkedIn?
Why is LinkedIn a tool for federal contractor? Here are some reasons:
Being active on LinkedIn will create higher visibility for your business in a targeted government community.
Being a Subject Matter Expert (SME) will build a stronger brand for your small business.
Making connections will create stronger and deeper relationships with current clients and prospects.
Provide more government contracting (GovCon) media visibility
LinkedIn is now an integral part of the GovCon ecosystem.
Step 2: Use LinkedIn to Conduct Research on Federal Agencies
Use LinkedIn to your advantage to find contacts within your agencies of interest. Look up LinkedIn company pages for federal departments – their page will list personnel. Consider following the small business specialists to start. If you have something to share, ask to connect. It's best to personalize your message rather than using the form connection message.
Start targeting a few government agencies that would be the best fit for your business. Do your research and check out their website, LinkedIn page, and posts. The goal is to find out what are their biggest pain points. By doing the research, you can build a message to focus on their issues and how you can solve them. You want your message to differentiate your business from the competition. Along with posts in social media, try informational blogs, white papers, and videos that address their problems and your solution.
Most defense and civilian agencies are active on LinkedIn including their informational posts and people (employees). For example: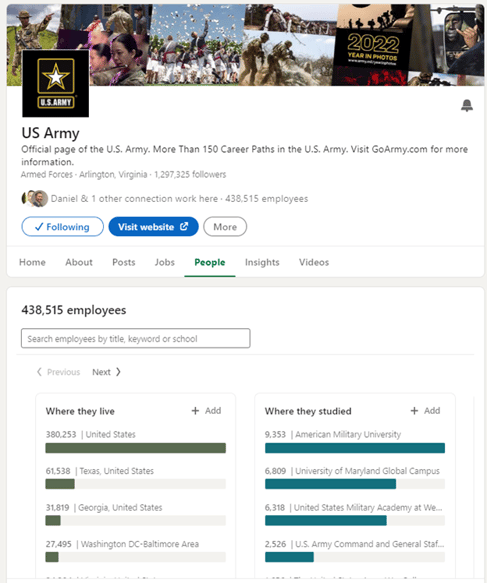 You can also use the search function to find different groups relating to multiple agencies.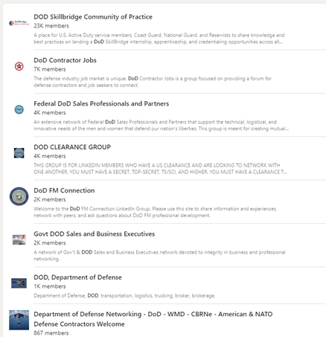 While LinkedIn is a great place to network and start building connections, you can also check out your agencies of interest on other social media platforms to learn more about their daily news, insights, and updates. This will help you stay well informed for when you are communicating with agencies whether it's a capabilities statement, solicitation, or the early stages of market research. There's Twitter: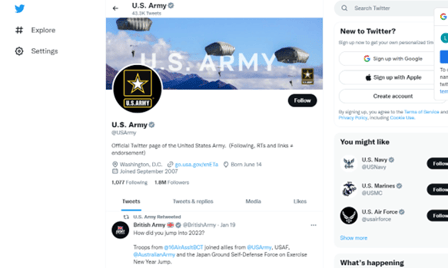 And also Facebook: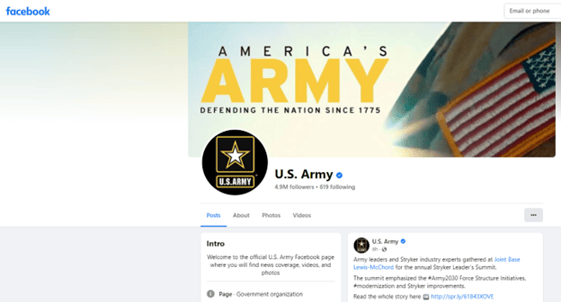 Step 3: Conduct More Research on Federal Agencies
Now that you have used LinkedIn as a resource, what else can you do? There are lots of ways to conduct research on federal agencies. This will take time, but to meet the challenge as a small business trying to business a relationship with government agencies, try some of these tactics.
If you don't already, start following government agencies on all social media platforms click "Follow" so they get notified that you are following them. Under your notifications, you can view their posts.
Aim towards reaching the decision-makers, target a few agencies to focus on. Collect and analyze information found in social media posts, blogs, Requests for Information (RFIs) , which are in the early stage of government development. Attend industry days. These events whether virtual or in person are a great way to network with government contacts. Your goal is to create brand awareness for your small business.
Something you can also work on is looking for past and future opportunities. Review agencies' former Performance Work Statements (PWS) for insight on their specific issues, and be aware of when they release Request for Information (RFIs) so you can get your foot in the door early.
Step 4: Decide How You Are Going to Convey Your Message
After you have identified the agencies you want to connect with, it would be advantageous to have a marketing person or a business development person who could work on a messaging strategy dedicated to government agency needs. Since COVID-19, social media use amongst government agencies has increased on nearly every platform using their personal devices. It is important to understand how to target, market and reach the government market.
In order to be successful, small businesses need to be proactive. It's a challenge, but the goal is getting traction for your business and to build relationships with government agencies. They are interested in how your small business applies to them and what they need. How do you find this information? What is their mission? It will take time and think about your value proposition. What is the value of your products or services? Can you communicate your value? Can you provide examples of experience? How are you different from your competitors?
Staying On Top of Government Opportunities
Billions of dollars are awarded to small businesses as prime contractors. If you want to grow your business in federal government, you want to start developing relationships with the right people who can help and support. In the Office of Small and Disadvantaged Business Utilization (OSDBU), the Small Business Specialist can advocate on your behalf, facilitating your business with Contracting Officers, Contract Specialists and agency end-users. Each agency has an office.
So, what happens when you start making progress on government contacts? Be prepared before you schedule a meeting. Check out the agency website, have a written capabilities statement, and be able to explain how your solution will meet their needs. Ask about their needs and what problems they are trying to solve. Be their subject matter expert (SME). This will help you stand out from your competitors.
As you may already know, connecting with government contacts, marketing your GSA Schedule, and searching for government opportunities is an endless cycle. While staying on top of all of this will certainly help you succeed in the federal space, you can just sit back and watch the orders come in.
If you need help with your GSA Schedule or want to learn more about getting a GSA Schedule so you can start making those government connections, feel free to reach out to our team at Winvale. We would be happy to help.
About Leslie Crowley
Leslie Crowley is a Lead Account Manager for Winvale's Public Sector Technology department where she manages partner accounts under Winvale's GSA MAS Large Category F contract. Leslie has vast experience building new business, securing customer loyalty, and forging strong relationships with external business partners.