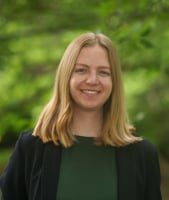 How to Submit a Modification through GSA eMod
Resources and Insight | 6 Min Read
The word "contract" may sound binding by nature, but since you can have your GSA Schedule for up to 20 years, it's bound to change. Whether it's your prices, the products and services you offer, or your company address, you'll inevitably need to make changes. This can be done through GSA Schedule modifications. Modifications are an important part of managing your GSA Schedule and are required to keep your contract current, complete, and accurate.
So, how do you navigate the GSA emod system? In this blog, we'll walk you through 7 steps of completing a modification from sign-in to submittal.
Step 1: Signing into GSA eMod
The first step is signing into eMod. You'll notice that eMod is called both eOffer/eMod, but in this blog, we'll be focusing solely on eMod. First, it'll prompt you to sign-in with your GSA FAS ID which is required across multiple systems in place of the digital certificate.
If you have logged into eMod before, you'll want to select your previously entered DUNS Number (soon to be UEI), or manually type the number in if this is your first time. If you don't know where to find your company's DUNS, it's listed in eLibrary. If you have multiple contracts under one DUNS, it'll prompt you to select just one.
Step 2: Manage Your GSA Modifications
Next, you'll be brought to a homepage that will list your new emods, saved mods, submitted mods, and GSA initiated mods (seen below). Saved mods are mods you have started but didn't have time to finish. Under the submitted section, you can see any mods you have submitted, any rejected mods, and the status. In this section, you can view the mods, withdraw it, or edit it. If your Contracting Officer (CO) has any clarifications about a mod, it'll be listed here. GSA initiated mods are mods that GSA wants you to complete. Examples of these include contract reassignment if your CO was switched, if you are cancelling your contract, or an option extension mod if your contract is reaching the end of its 5-year period.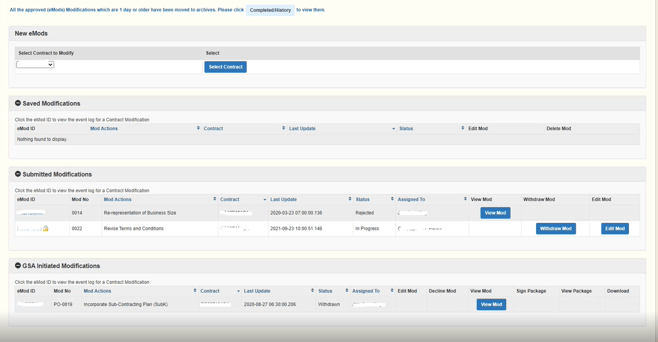 Step 3: Start a New GSA Modification
To start a new modification, go to the "new eMods" section on your homepage and select the contract you want to work on. You'll be brought to the page seen below. This page will list all the types of mods you can complete according to the Multiple Award Schedule (MAS) Modification Guide. The main types of mods in the system are:
Additions
Administrative
Cancellation or Terminations
Deletions
Legal
Pricing
Technical
Terms and Conditions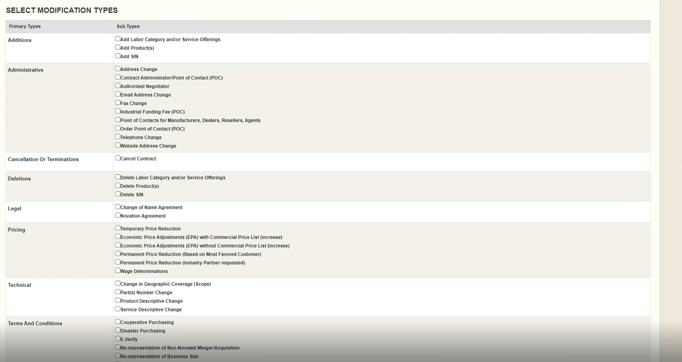 Generally, you can only select one modification at a time. We know it may be tempting to knock 2 or 3 out at the same time, but your mods could get rejected by your CO (unless they specifically instruct you to complete multiple). There is one exception, however. Administrative or admin mods can be paired together. For example, if you wanted to change your company address and phone number at the same time, that can be done.
It's important to note you can submit multiple mods in the same day, but you have to create a new mod for each one unless they are all admin mods. To show you how a mod is completed, we're going to select "authorized negotiator" under the admin section. The general structure of mods will be the same, but the documents the system asks you to submit and the information that appears can vary between modification types.
Step 4: Corporate Information
Once you select the kind of mod you want to complete, you'll have to confirm your corporate information. This page is consistent for every mod type, and it essentially pulls all your entity information from SAM.gov. All you have to do is double check the information and confirm it's ready to go. If there's something missing or incorrect, you have the option to sign-out and correct the errors in SAM.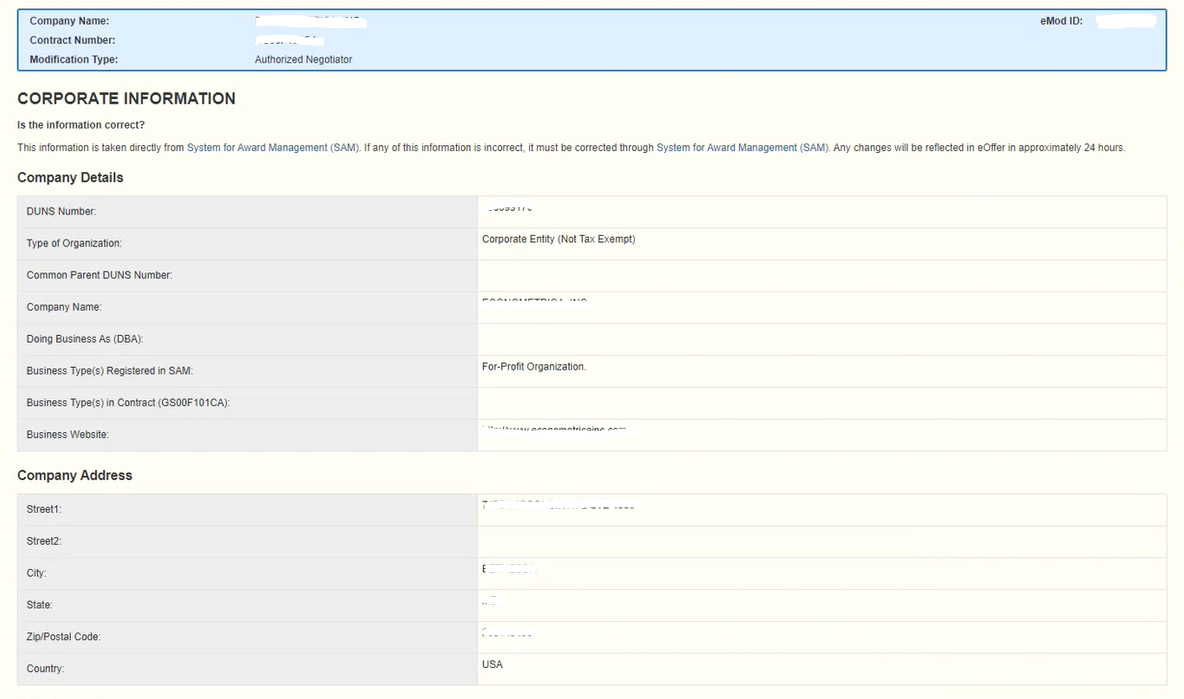 Step 5: Administrative Review
Since we're completing an authorized negotiator mod for this extended example, it's going to list all the negotiator details. If you had selected company address or phone, then the information at the top would also have been available to edit but for now, we are just able to edit the authorized negotiator list.
The names and emails in the image below are blocked out for privacy, but with each person's name you can edit their role (whether they are authorized to sign or not) or delete them. You can also add a new authorized negotiator on the bottom right-hand side. If you hire a GSA consultant to help manage your Schedule, then they'll be listed on here as well.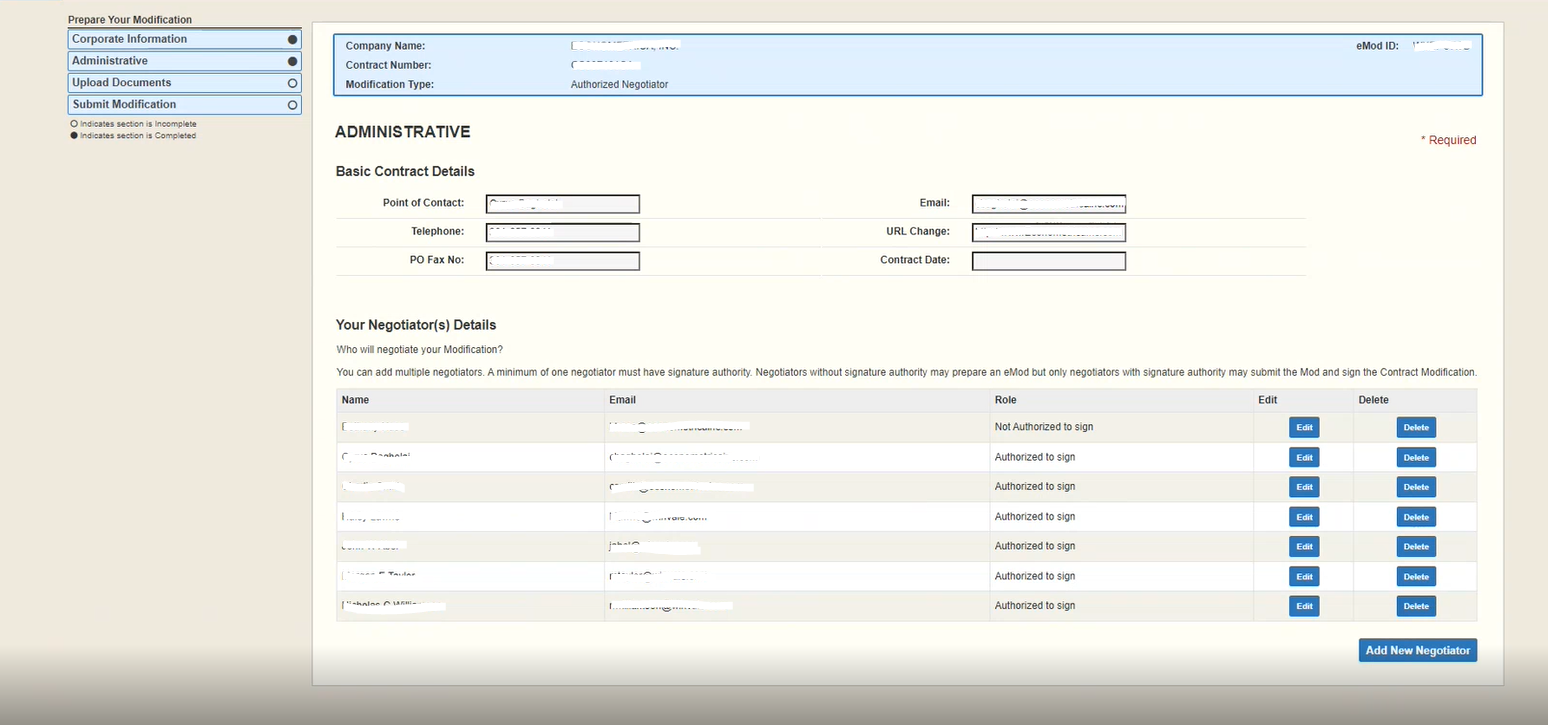 Step 6: Upload Documents
So now, we are on the upload documents stage. Up until this step, you selected what kind of mod you wanted to complete, made the change, and now you need to provide information about the mod by uploading the necessary documents.
This example is fairly short because we are just trying to simply remove an authorized negotiator, so it doesn't require a lot of documents. In this section, there will be a red asterisk next to the documents that are required to complete the mod. The page will also automatically pull in required documents you need to submit, but you need to pay close attention to this section. Sometimes, GSA will pull in a list of documents and not make all of them required. For example, a cover letter is standard to submit for every type of modification but is not listed as required. So, how do you know what to submit? We suggest you always check the MAS Modification Guide for every mod you complete to check the list of documents that are needed, and talk with your Contracting Officer. They may have varying requirements on what documents they want you to submit.
If you were performing a more complex mod like adding a Special Item Number (SIN), you would have to upload several documents such as labor category descriptions, supporting documentation (pricing support like invoices), and your commercial pricelist.

Step 7: Final Review of the Mod
The final review of your modification summarizes the actions. It's always a good practice to save this webpage so you can have it for your records in case there's an issue with emod and you can show it to your Contracting Officer. This section is where you can review all your documents and make sure everything is complete before you submit. However, emod does make you confirm your choices with every step, so you'll have plenty of opportunities to correct any potential mistakes you made.
Once you hit submit, you'll want to go back to the homepage to make sure the mod is submitted and has been assigned an emod ID.

Successfully Managing Your GSA Schedule
Once you submit your modification, it's in the hands of your Contracting Officer (CO) unless they need any clarifications from you. The timing for each mod being accepted really depends on your CO and how busy they are. Administrative mods are rapid action, so in theory they should be awarded within 24 hours, but could take longer depending on how backed-up your CO is. Other mods can take a lot longer because they may require pricing analysis, or a SIP Upload.
Submitting modifications is just one of the several ways you need to keep up with your GSA Schedule. Do you need help managing your GSA Schedule? We are happy to help answer any questions you may have about GSA Schedule maintenance, and help you successfully maintain your GSA contract.