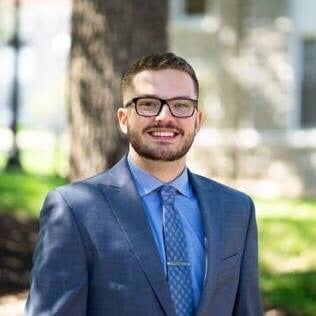 Everything You Need to Know About GSA eBuy
Government Business Development | Resources and Insight | 6 Min Read
So, you have been recently awarded with a GSA Multiple Award Schedule (MAS) and are probably wondering what tools are available to you as a GSA Schedule contractor. While there are several websites and resources at your fingertips, we're going to focus on GSA eBuy, an online procurement tool that allows eligible government agencies to procure products, solutions, and services from GSA contract holders registered on the eBuy platform. Let's cover what GSA eBuy is and how you can use it your advantage.
What is GSA eBuy?
GSA eBuy is an acquisition tool used by thousands of eligible federal, state, local, and education (SLED), and military government clients to purchase products, solutions, and services from GSA Schedule contract holders. Government customers like to choose GSA eBuy because they know they can procure their solutions at the best price, value, and highest level of competition (as required per each solicitation).
The eBuy system is easy to use and allows contractors to respond to select government solicitations including Requests for Information (RFIs), Requests for Proposals (RFPs), and Requests for Quotes (RFQs) that relate to the product offering(s) offered on their GSA Schedule.
As soon as a relevant solicitation is posted to the platform, all eligible users will be automatically notified via email that a solicitation has been posted and how to access more information about the solicitation. To view the specifics of the RFQ notice action provided by eBuy, users will need to log-in to the GSA eBuy platform.
It's also worth mentioning that you have the opportunity as a GSA Schedule holder to view and quote on additional RFQs in GSA eBuy under your contract awarded categories, i.e., Special Item Numbers (SINs) that you did not receive an invite for. We suggest checking the eBuy platform at a minimum once each day for additional opportunities, as many competitive solicitations are time-sensitive and require immediate attention.
What Are the Requirements to Sell on GSA eBuy?
To sell on the GSA eBuy platform, users will need to have a GSA Schedule contract because eBuy opportunities are only available to GSA Schedule contractors. Once you are awarded a GSA Schedule contract, you must register with the Vendor Support Center (VSC) to participate in solicitations that are relevant to your specific goods and/or services offered on your GSA Schedule.
Contractors only have access to view solicitations that are relevant to their GSA Schedule category (referred to as a Special Item Number, or SIN). It's important that once you find an opportunity, that you view the particular solicitation in depth because you will need to ensure that you can fully meet and exceed the posted Statement of Work (SOW) and/or any application solicitation terms and conditions as provided by the agency/client.
eBuy Best Practices
eBuy is an immensely powerful tool available to GSA Schedule contract holders, but before participating in the platform, users should understand some of the best practices for GSA eBuy. Solicitations are very timely and government buyers generally want responses within 7-10 days of the date the solicitation was announced/posted. As a GSA Schedule holder ourselves, we have found that it's a best practice to have a designated Point of Contact (POC) responsible for checking the eBuy platform daily for relevant solicitations.
Given the timely nature of many of the solicitations posted on GSA eBuy, we also recommend providing responses to solicitations 24 hours in advance to the solicitation submission deadline as possible, as this will ensure peace of mind that the government Contracting Officer (CO) has received your organization's response in a timely manner. At a minimum, you should plan to reach out to the designated POC (generally the CO in place on the solicitation) and inform them directly of your intent to respond to the solicitation via email, especially if you are unable to submit a response within 24 hours of the solicitation response deadline.
While you and your organization will have access to thousands of eligible federal, state, local, and education (SLED), and military services clients, it's vital you review all solicitations prior to responding, as you will need to ensure you are able to comply with all the listed requirements.
You should also have a designated POC who is responsible for reviewing and qualifying relevant solicitations to ensure your organization is meeting and exceeding all stated requirements, especially any relevant Federal Acquisition Regulation (FAR) clauses as these are generally non-negotiable. Contractors who do not submit compliant bids are subject to losing their GSA Schedule contract, so it's important you make sure your company can fully support the requirements.
How to Navigate GSA eBuy
Logging-in to GSA eBuy
To log-in to GSA eBuy, users will need to visit the eBuy site and click on the 'Contractor' sign-in button as shown in red below.
After clicking on the 'Contractor' tab, users should proceed with entering their GSA FAS ID email address and password as shown below.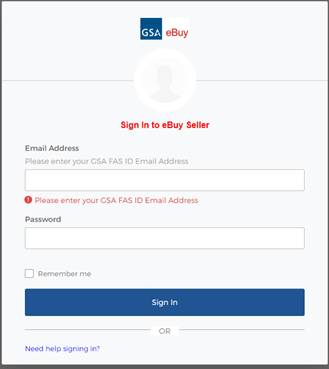 After you input your GSA FAS ID email address and password, you will receive a one-time password (OTP) on your GSA FAS ID email address that you will need to input to continue to the site.
Finding Opportunities on GSA eBuy
GSA eBuy users have the ability to 'search', 'select', and 'respond' to relevant solicitations posted on the eBuy platform.

If you click 'Find opportunities Now' button (as seen above), you will find active Requests for Quotes (RFQs) available in the categories of your contract(s). To review the details of an RFQ and prepare a quote response, select the RFQ ID as highlighted below in yellow.

Solicitation details will be posted under each perspective RFQ ID and include, but are not limited to:
RFQ ID
RFQ Title
Reference # / uPIID
RFQ Issue Date
RFQ Close Date
Description
Delivery
Contact (Department, Address, Division, Email, Phone)
Attachments (generally includes solicitation terms and conditions, SOW, etc.)
Shipping Addresses (as applicable)
Individual Receiving Shipment
Quote good until (section that allows sellers to state the date their quote expires. Note: quotes must be valid a minimum of 7 days from the RFQ close date)
Line-Items (as applicable)
Prompt Payment Discounts (as applicable)
FOB (Original Transportation Cost if FOB Origin Transportation Cost exist)
Documents (section for you to provide relevant submission package including price quote and technical response as requested)
Contractor Comments (section for you to input comments for the CO/client
Please note that RFQs you have already taken action on, either by preparing a quote or submitting a "no quote" will be identified with a green checkbox symbol next to the RFQ ID, and can be hidden from this page using the "Hide RFQ" as shown above in red.
Accelerating Government Opportunities in the Public Sector
GSA eBuy simplifies the purchasing process for government buyers, allowing them to request information, find sources, and prepare RFIs/RFPs/RFQs online, and it provides contractors with a platform to sell their products or services to eligible government buyers.
As a GSA Schedule contract holder ourselves, we have experience viewing and responding to thousands of government solicitations listed on GSA eBuy. If you would like to learn more about how to utilize a GSA Schedule, gain access to GSA eBuy, or partner with an authorized GSA reseller who can post your products on their GSA Schedule, reach out to us today.
About Bradley Wyatt
Bradley Wyatt is a Lead Account Manager for Winvale's Public Sector Partner Program where he currently manages a diverse portfolio of Information Technology, Hardware, Software, and Services Channel Distribution Partner Accounts to accelerate their sales within the Public Sector. Bradley is a native of Fredericksburg, Virginia and a graduate from James Madison University with his Bachelor's of Science in Public Policy and Administration.