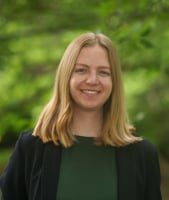 The Contractor Assessment Reference Guide: An Important Resource for GSA Schedule Contractors
Resources and Insight | 4 Min Read
Whether you're a new GSA Schedule contractor or you have been selling to the government for years, Contractor Assessments (CAs) can be stressful if you're not prepared. Even if you are on top of your contract maintenance, it can be intimidating to have an official checking up on your company and handing you a detailed report card about your performance. How do you know what to expect? Now you have a guide to help you make sense of the process.
The Multiple Award Schedule Program Management Office (MAS PMO) and the National Industrial Operations Analyst (IOA) Program recently announced the release of the MAS Contractor Assessment Reference Guide on the Vendor Support Center. The MAS Contractor Assessment Reference Guide was created as an educational resource for GSA Schedule contractors so they are ready for their Contract Assessments.
We are often prepping for our clients' upcoming CAs, so we are excited there's a comprehensive resource GSA Schedule contractors can reference to help them understand the process.
What Are Contractor Assessments?
Contractor Assessments (CAs) are a way for GSA to make sure you are complying with the terms and conditions on your GSA Schedule contract. All GSA Schedule contractors have to go through Contractor Assessments conducted by an Industrial Operations Analyst (IOA).
This is not an audit, it's a way for GSA to help contractors identify areas of improvement and put an action plan in place. CAs used to be called Contractor Assistance Visits, because the process helps you succeed as a GSA Schedule contractor.
It's more than just a visit—first, your IOA will send over a list of documents they want to review and will suggest a virtual meeting. The IOA may want to discuss several documents with you and will ask questions about your contract including your historical sales data, pricing compliance, your accounting practices, sales reporting, etc. After the meeting, the IOA will prepare a report card summarizing the visit and will suggest recommendations for you moving forward.
The amount of information they ask for or give you based on their recommendations may seem like a lot to handle, but this is where the reference guide can be useful.
What is Included in the MAS Contractor Assessment Reference Guide?
The MAS Contractor Assessment Reference Guide gives a transparent view of the MAS Contractor Assessment process. It also helps GSA contractors understand what their overall obligations are in these assessments.
Back in May of 2020, GSA put out a Request for Information (RFI) looking for input on this guide. They wanted to make sure they curated a guide that was not only useful, but clear and easy to understand. Since the guide is 28 pages, we won't cover the entire thing, but we'll highlight some key parts.
The first few sections provide contractors with a strong foundation of CAs. It outlines key terms and definitions you'll need to learn, explains the role of the IOA, and differentiates between the two types of contractor assessments: annual vs. End of Term.
The guide then breaks down the steps for a CA so you'll know exactly what to expect and what you are responsible for as a contractor coming into these visits: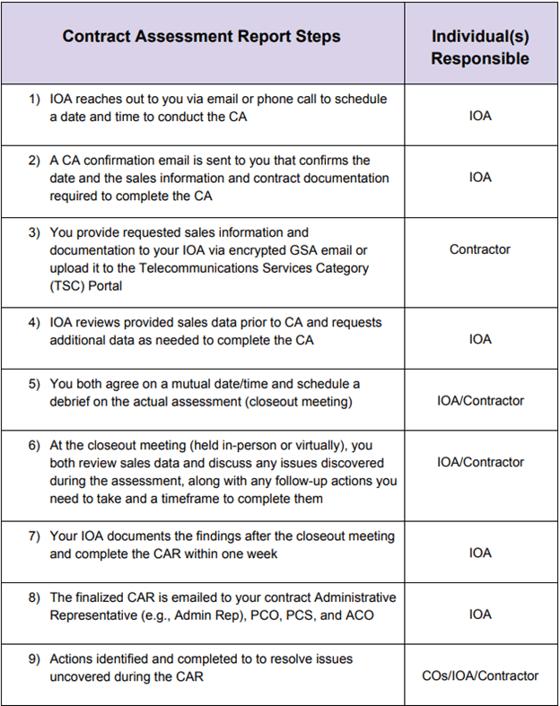 The MAS Contractor Assessment Reference Guide also includes a list of potential topics that may be addressed during the CA. Under each topic is a key takeaway for the IOA so contractors can fully understand why these topics may be discussed. Topics include:
Sales Reporting
Contract Terms and Conditions
At the end of the reference guide, there are template examples of the Contractor Assessment Report, the I-FSS-600 Terms and Conditions, and the Contractor Assessment Intent Notice. It's important you take a look at these templates because they detail exactly what you'll need to provide the IOA when it's your turn for an assessment.
Why is the Contractor Assessment Reference Guide Important for GSA Schedule Contractors?
Although CAs are not audits, it's important you take them seriously and are fully prepared coming into each assessment. If you have all your documents and information in order and you are organized, this meeting will be much easier and a lot less painful. Use this reference guide to your advantage so you can make the most out of your CAs.
Your IOA is not there to reprimand you or punish you, they want to help you stay on track or get back on track if you are struggling. CAs were created not only to ensure you are complying with terms and conditions, but to help you improve.
We suggest you read through each section of the guide so you are ready for your next annual CA or End of Term CA. However, we understand if the process is still a little overwhelming, especially if you have never had a CA before. We are well-versed in CAs and have handled several for our clients, so our consultants are here to help answer any questions you may have.
About Stephanie Hagan
Stephanie Hagan is the Content Writer and Digital Editor for Winvale where she helps the marketing department continue to develop and distribute GSA and government contracting content. Stephanie grew up in Sarasota, Florida, and earned her Bachelor's of Arts in Journalism and Rhetoric/Communications from the University of Richmond.