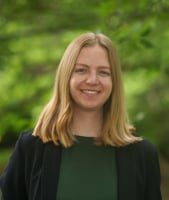 NAICS Codes 101 in 2023
GSA Schedule | Resources and Insight | 6 Min Read
If you have a GSA Schedule or have worked with the GSA in any capacity, you have undoubtedly heard the terms "NAICS Code" referenced before. But what exactly is a NAICS Code? And what is their relevance to GSA Schedules?
NAICS is an acronym for North American Industry Classification System that was established in 1997 to create more connectivity with statistical agencies of Mexico and Canada. A NAICS code is a six-digit numeric code. The purpose in creating this specific classification system was simple: to create a universal North American standard and provide a platform by which Federal Statistics Agencies could better analyze and publicize the collection of statistical data related to the US economy.
We at Winvale get a lot of questions regarding NAICS Codes from our clients, so let's break down the basics of NAICS Codes.
What Are NAICS Codes?
Developed by the Office of Management and Budget (OMB), NAICS is a classification system used by government agencies to collect, analyze and publish statistical data on the United States business economy. The federal procurement sector uses the codes to classify industries.
To put it in the simplest terms possible, a NAICS Code is a reference number or point that is used to describe the core of a firm's business. GSA determines which Special Item Numbers (SINs) match with which NAICS Codes by looking at the scopes of each and matching them as closely as possible.
If you are a GSA Schedule holder and don't know your current NAICS Code or are wondering how you can view your current NAICS Code, all NAICS Codes are listed within the System for Award Management (SAM) webpage.
NAICS digits
A NAICS Code is a six-digit numeric code. Any code above 6 digits is not a NAICS Code, though it may be based on NAICS Codes. The first two code digits define the economic sector. The third, fourth, fifth and six digits designate the Subsector, Industry group, NAICS industry and National industry respectively (seen in the graphic below).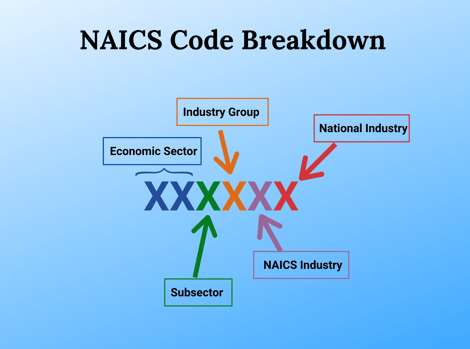 Why Are NAICS Codes Important?
NAICS Codes are important because they put your business into categories used by agencies to meet their procurement needs. You can find opportunities based on NAICS code. For example, if you sell sports equipment such as tennis rackets and baseballs, you'll want to be looking for opportunities that are soliciting the actual equipment and not an equipment center. Using your primary NAICS Code to search for upcoming opportunities will save you time and help you find relevant ones to go after.
The NAICS Code System is Self-Assigning
One nice feature of the NAICS Code system is that it is a self-assigned system. This means a company can select a NAICS that best applies to the core of their business from their own perspective. If you aren't sure which NAICS Code aligns best with your offerings, check out our blog on how to determine the right NAICS Code.
This also applies to those who may be seeking a contract GSA. Although NAICS are already pre-determined, companies can request a NAICS Code change as long as it is relevant to the scope of their business and falls within the same category.
You can also add additional NAICS Codes to your SAM.gov registration if you believe it aligns with your scope of business. There isn't a limit on the number of NAICS Codes on in your SAM.gov registration. The only instance in which a NAICS Code cannot be self-assigned is when it is dealt through OSHA (Occupational Safety and Health Administration), the EPA (Environmental Protection Agency), or the DEP (Department of Environmental Protection) which has to do with environmental factors more than anything else.
Using NAICS Codes to Determine Size Standards
Understanding the business size standards for NAICS Codes is critical. The Small Business Administration (SBA) developed size standards for each NAICS category. These are used to determine whether a firm qualifies as a Small Business or "Other than Small" business.
Size standards are determined in one of two ways: either by the number of employees a company has or by measuring the average annual "receipts" a company produces. Annual receipts, as defined in FAR 19.101, refers to the gross revenue a company generates from a number of factors including revenues from sales, interests, rents, fees, and commissions among other things. Qualifying as a small business has several advantages, including increased marketing and federal business sales opportunities.
NAICS Codes Align with Special Item Numbers (SINs)
When the Multiple Award Schedule (MAS) Consolidation was released, GSA moved from "Schedules" to "categories," decreasing approximately two-thirds of the total number of SINS and modifying the format by which GSA Schedules operated.
One notable change that came with the MAS Consolidation was the numeric description of SINS. Under the previous GSA Schedule, most SINs did not resemble NAICS Codes. Note the example below that illustrates the difference in numerical values between Legacy SINS and their corresponding NAICS codes:
| | | |
| --- | --- | --- |
| SIN Title | SIN | NAICS Code |
| Filter Elements | 540 21 | 339113 |
| Panel Meters | 602 24 | 334515 |
| Environmental Consulting Services | 889 1 | 541620 |

Under the new Multiple Award Schedule, SIN numbers and NAICS Codes share a common collection of numbers with some SINS having a few additional characters. The purpose of this change and additional updates to the new consolidated Schedule was to help provide consistency throughout the program and help streamline and simplify the entire process. You can see the increased similarities between SINs and NAICS Codes in the consolidated MAS Schedule in the chart below:
| | | |
| --- | --- | --- |
| SIN Title | SIN | NAICS Code |
| Document Conversion Services | 518210DC | 518210 |
| Copier Rental Solutions | 532420C | 532420 |
| Gloves | 339113G | 339113 |
Due to this change, there has been some confusion in between NAICS Codes and SINs, but they are separate classifiers.
Do You Want to Learn More About NAICS Codes?
NAICS Codes serve as an important measuring point for multiple federal statistical agencies in addition to the GSA. It's important to note that in late 2022, the NAICS Association released the latest update to NAICS Codes. Some codes were consolidated or changed, so you should make sure your NAICS Codes haven't been affected, or if you are looking for the right code to make sure you are using the most updated list.
For more on the importance of NAICS Codes and additional information on the federal marketplace in general, check out our blogs on NAICS codes, including "5 FAQs About NAICS Codes" and "Identify Your Best Opportunities with NAICS Codes." Having a better knowledge and understanding of NAICS codes and their applicability will help assist contractors in searching for better business opportunities and best utilize their GSA contract.