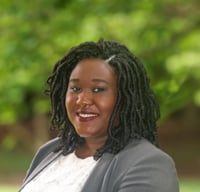 Acquiring an NCAGE Code and Registering With SAM
Government Business Development | Government | 4 Min Read
If your company is based outside of the U.S., you may be wondering how you can do business with the U.S. federal government. For foreign companies who plan to use a government contracting vehicle to sell to government agencies, acquiring a NATO Commercial and Government Entity Code (NCAGE Code) and registering your company in the System for Award Management (SAM) are the first two crucial steps you will need to take. In this blog we'll cover what you need to know about NCAGE Codes, who needs one, and how to register.
What is an NCAGE Code?
The Commercial and Government Entity Codes (CAGE Codes) and NCAGE Codes are used to recognize companies that sell to the government. Domestic companies that provide products or services to the government are given a designated CAGE Code. However, for foreign companies and non-U.S. based parent companies located outside the U.S., you will need an NCAGE Code from the NATO codification system community.
Established in 1958, the federal government uses the five-character NCAGE Code to identify various companies outside the United States and facilitate the supply chain. After receiving a NCAGE Code, the next step toward bidding on contract opportunities is registering in SAM.
For any company contracted to sell products and/or services to the government, the NCAGE Code relates to everything you do. For example, when you bid on a contract, your NCAGE Code is included on the first page of your 1449 form. The NCAGE Code is also used to manage process and procedures related to your GSA Schedule contract.
Who Needs an NCAGE Code?
As we mentioned before, any foreign organization that wishes to conduct business with the U.S. government will need an NCAGE Code. This includes certain U.S.-based companies that fall under the asset umbrella of a non-U.S. based parent company. Alternatively, any U.S. businesses that only wish to work with foreign governments will need an NCAGE Code.
It's important to note that any U.S. subsidiaries will also need to apply for a CAGE Code if they wish to sell to the U.S. federal government through a GSA Schedule or any other government contract vehicle.
How Do I Request an NCAGE Code?
To register your company for a NCAGE Code, it's crucial that you have a physical address and have an idea of which agencies you intend to sale to. You can request an NCAGE Code by registering your company using the e-portal for the NATO Support and Procurement Agency (NSPA). Before registering, it's best to search your company in the e-portal to ensure a code has not already assigned. Once you register and send a request, a validation email message is sent to the Point of Contact (POC) you listed. The request will be activated after the POC's email is validated.
Once an NCAGE Code is assigned, the next step is to validate your company's information by logging in to the NSPA portal. This information is then forwarded to the DLA CAGE Program Office and displayed in the CAGE Search and Inquiry (CSI) within 1 to 10 business days. To resolve any issues regarding CAGE/NCAGE displaying in CSI or NSPA, you can contact the DLA Customer Interaction Center.
More information regarding the procedures, guidance and information on the administrative matters of the NCAGE/CAGE Code can be found in the Defense Federal Acquisition Regulation (DFARS) PGI 204.18.
After this step is done, you can register your business in SAM.gov and obtain a Unique Entity Identifier (UEI) which recently replaced DUNS. We'll cover this next step below.
How Do I Register My Company in SAM.gov?
SAM.gov is an official U.S. government website which houses contract opportunities, contract resources, data reports, contract information, and exclusion records. Companies selling to the government must have an active SAM registration which is renewed annually. This allows companies the opportunity to obtain a government contracting vehicle such as the GSA Schedule and go after government contracting opportunities. There is not a fee associated with registering your company in SAM. You will need the following information to register:
Tax identification number (TIN)
Banking information for funds to be transferred electronically
A central Point of Contact
You can check the status of your SAM registration using your NCAGE Code. When you initially register, your status will change from "draft" to "work in progress" after entering your company's basic information. Then your status will go from "submitted" to "active," which is what you'll want to see all the time. Failure to update your SAM registration on time can result in a status change to "expired." To be eligible to bid on contract opportunities and be awarded contacts with government agencies, it's crucial that your company is registered in SAM and is renewed.
One of the many benefits of SAM.gov is that it houses a lot of key functionalities under one site. For example, you can update your NCAGE information and registration using SAM. For a more complete guide to SAM check out our blog on "A Complete Guide to SAM.gov."
What's Next After Acquiring an NCAGE Code and Registering with SAM?
Obtaining an NCAGE code and registering your business in SAM are important steps to doing business with the government, but are only the some of the prerequisites before you get on a government contract vehicle like the GSA Schedule. If you want to offer your products and services through a GSA Schedule, check out our blog on "Understanding the Basics of GSA Schedules" or "A Guide to Preparing Your GSA Schedule Proposal."
If at any point during the NCAGE Code or SAM registration process you need help, or you want to learn more about getting a GSA Schedule, reach out to one of our consultants. We can help you navigate all the requirements it takes for a foreign company to get on a GSA Schedule.